Sigur Rós is an Icelandic post-rock, dream pop, shoegazing and ambient genre band with melodic, classical and minimalist elements. Sigur Ros is known for its ethereal sound and lead singer Jónsi's falsetto voice. Its members include Jón Þór "Jónsi" Birgisson, Georg "Goggi" Hólm, Kjartan "Kjarri" Sveinsson and Orri Páll Dýrason.
"Með suð í eyrum við spilum endalaust" (With a Buzz in Our Ears We Play Endlessly) is the fifth and latest full length studio album from Sigur Ros, scheduled to be released on June 23, 2008. "Gobbledigook" is the first track on the album, and the song is available for free download on official Sigur Ros website.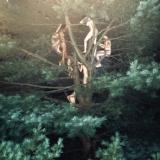 To download a free, high quality MP3 of Gobbledigook at 320 kbps bitrate, simply go to the following URL to register with your email address and select the country where you live. After clicking "Submit", a download link will display on screen.
http://www.sigurros.com/dvd3.asp (offer expired)
The music video for "Gobbledigook" can also be played and watched from the page above. Gobbledigook music video was filmed and directed in May 2008 by Arni and Kinski, and shot by cinematographer Christopher Doyle. The video is available in Apple QuickTime .mov high and medium resolution format.
Note that the music video is not office-safe and not suitable for child below 18. The video contains explicit scenes of adult nudity, where it shows a group of 20 or so young adults partaking in nudism or naturism. If you're over 18, you can watch the video at Youtube too, at high quality resolution, though you need to sign in or sign up to verify that you are 18 or older.
There is also a video clip detailing the making of the Gobbledigook music video.