Microsoft provided free upgrade to Windows 10 for eligible Windows 7, Windows 8 and Windows 8.1 users for a year after the official launch of Windows 10. However, the Windows 10 free upgrade offer where everyone gets to download and install the flagship Microsoft Windows operating system without paying retail price has ended as it lasted only until July 29th, 2016.
However, Microsoft leaves open a number of loophole to upgrade to Windows 10 for free by everyone, and one of them is by allowing users who use assistive technologies to upgrade to Windows 10 at no cost, without any checks and verification. In fact, Microsoft does not restrict the upgrade offer to specific assistive technologies, which means many daily use functions can be considered as assistive technologies, such as magnifier, closed captions, Narrator, on-screen keyboard, mouse pointer size, and etc.
The broad definition allows just about every Windows users to download the Windows 10 Update Assistant upgrader provided to assistive technologies users to start the free upgrading process. The best thing about upgrading to Windows 10 via upgrader is you don't have to worry about product key whatsoever. However, the good thing may come to an end soon.
The Windows 10 upgrade for assistive technology users web page at https://www.microsoft.com/en-us/accessibility/windows10upgrade has been updated recently to indicate that the program ends on December 31, 2017.
If you use assistive technologies, you can upgrade to Windows 10 at no cost as Microsoft continues our efforts to improve the Windows 10 experience for people who use these technologies. Please take advantage of this offer before it expires on December 31, 2017.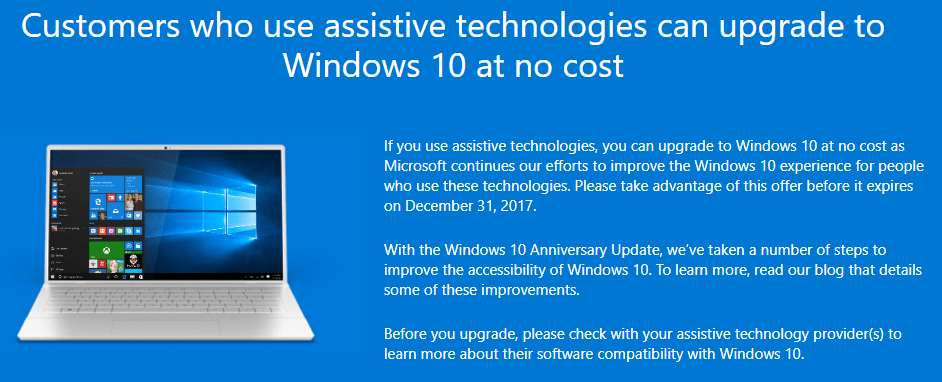 And a FAQ has been added:
When does the upgrade offer extension end?

The accessibility upgrade offer expires on December 31, 2017.

Thus, if you intend to upgrade your PC to Windows 10 via an easy way, wait no more. Download the Windows 10 Update Assistant for Assistive Technology users, Windows10Upgrade24074.exe (or at least save a copy of the executable, just in case it still works in 2018) and perform the upgrade before the exploit closed. Once the accessibility free upgrade loophole is closed, you have to have a valid Windows 7, Windows 8 or Windows 8.1 product key to enter into Windows 10 setup installer in order to upgrade to Windows 10 for free.
Update: The expiry date for the program has been extended to January 16, 2018.