The previous free Webroot Spy Sweeper 5.5 1 year subscription offer by ComputerActive has expired and no longer valid. However, VNU (the publisher who publishes ComputerActive) has a new offer to giveaway Webroot Spy Sweeper 5.5 license code for 6-month free subscription.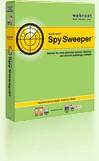 Webroot Spy Sweeper is an antispyware software that wins and earns numerous award. Webroot Spy Sweeper provides advanced real-time threat protection that monitors system behavior and proactively detects and blocks any spyware activity that may be damaging to your computer or put system at risk, with a technology called Spy Sweeper Smart Shields. It scans all hard disk drives, system registry, browser cookies, objects loaded in memory plus inbound and outbound email attachment to provide complete protection from spyware or Trojan.
Features of Webroot Spy Sweeper:
Most comprehensive antispyware solution available – 360 degrees of protection.
Continuous monitoring stops spyware before it can attack.
Advanced detection and removal capabilities for stubborn spyware.
Automatic defense updates keep you protected from the latest threats.
Advanced detection and removal.
Fully compatible and compliant with Windows Vista.
Real-time threat protection.
Enhanced rootkit discovery methods.
Accurate risk assessment.
Multiple user protection.
To get the free license code for Webroot Spy Sweeper 5.5 with 6 months subscription, go to http://www.webroot.com/start, and register with your email. The registration license code will be sent to your mailbox.
The full setup installer for latest version of Webroot Spy Sweeper 5.5 can be downloaded as sspsetup1_1.exe. Use the keycode received to activate Webroot Spyware Sweeper to full version product during installation.
Update 2: Webroot has discontinued support for Spy Sweeper as of 12/31/2012, and it was replaced by Webroot SecureAnywhere® Antivirus.
Update 1: Free Webroot Spy Sweeper 2010 (6 month subscription)