Curious about Bitcoin (BTC) and want to know what's all the fuss about cryptocurrencies and blockchain in general and Bitcoin in particular? Now you have a chance to earn some Bitcoin while embarking on crypto learning journey.
OKEx, one of the top cryptocurrency exchange by trading volume in the world, is a Malta-based multi-cryptocurrency exchange that allows users to trade crypto coins and tokens, stablecoins, fiat currencies, derivatives such as perpetual swaps, futures and options with multiple leverage choices to help traders to optimize their strategy. OKEx also offers mining pool, wallet, vault, cloud for exchange hosting, OKChain open source blockchain projects, block explorer, Jumpstart token sale platform and OKB global utility token used on OKEx trading platform
Now OKEx is giving away Bitcoin for those who wants to complete the daily crypto learning missions by watching a video or reading an article published by OKEx Academy, or by inviting friends to OKEx. 5 daily missions are available for learning about the latest cryptocurrency, blockchain and OKEx knowledge, which are mainly from articles on beginners' tutorials, trading ideas and industry analysis published OKEx Academy. What you need to do is just click or tap to open the mission in a new tab, and wait for the countdown clock (normally 1 minute) to finish, then you can complete the captcha a little Bitcoin.
Eech mission allows you to earn 80 Satoshi per mission. Satoshi is the smallest unit of the Bitcoin cryptocurrency, where 1 Satoshi is equivalent to 0.00000001 ฿ (Bitcoin). At USD $10,000.00 Bitcoin level, 1 Satoshi worth USD $0.0001 or 0.01 cent. Assuming Bitcoin is worth USD $10,000.00, you earn about 0.8 cent per lession, or 4 cents per 5 daily missions. The amount is little to seasoned cryptocurrency traders or veterans in crypto spaces, but it will provide good starting point for novice beginners or too those who are too scare to get started in cryptocurrency. More important, the giveaway is giving away Bitcoin, the most established cryptocurrency and not some shitcoin or altcoin that can't trade and has literally no value.
Do note that you need to accumulate at least 10,000 Satoshi (25 days of completing all 5 daily missions, about USD $1 in value) in reward program before you can withdraw the Bitcoin to own wallet. The mission list updates every day at 9:00am (PDT), 12:00pm (EDT) or 4:00pm (UTC).
The main requirements to participate in OKEx free Bitcoin you need to register for an account at OKEx, and then verify your email address and complete KYC (Know Your Customer) level 2, which requires you to submit proof of identify document and selfie photo. These may deter some people, but the KYC requirements seem to be a standard now in most estabished cryptocurrency exchanges.
Here's what you need to do to start earning free Bitcoin airdrop by learning in OKEx:
Register for OKEx Account

Create an account at OKEx.

Verify Your Email

Check your email account for a sign-up email code and enter it at the sign up page.

Complete the KYC Level 2

Go to Account -> KYC Verification and follow the instruction to complete KYC verification for level 1 and level 2. Identity Verification Level 1 requires only basic information, including nationality, name and passport ID. For level 2, you need either national identity card, driving license or passport and a camera to complete this step. This step may take several hours to days to complete and get verified.

Go to OKEx Free Bitcoin Giveaway Page

Visit the OKEx Free Bitcoin giveaway page from More -> Free Bitcoin.

Ready for Daily Mission

Hit the Ready for daily mission button or scroll down to the daily missions.

Start Learning and Earn Bitcoin

Click or tap on a mission listed to open a tutorial lesson on a new tab. Learn as you wish, and wait for the countdown timer to complete on the Free Bitcoin Giveaway page. Then complete the captcha and 80 Satoshi will be recorded in your earning.

Repeat the step for all 5 daily missions.

Invite Friends for 400 Satoshi

If you wish, you can also invite your friends to join the giveaway. Once they completed the daily missions, you will get 400 Satoshi.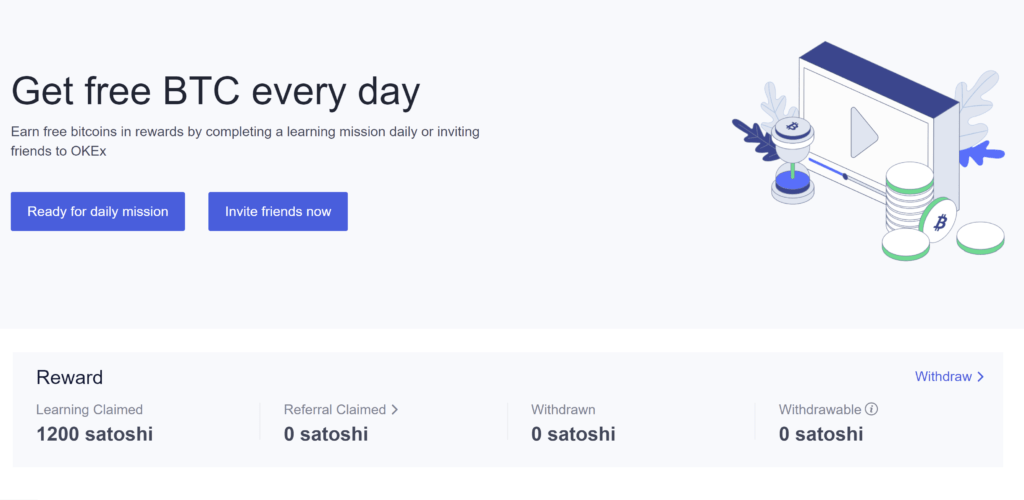 Do note that Tech Journey may receive commission or reward from OKEx if you sign up using any of the referral links. You may also get free extra $10 BTC when you purchase $100 or more in crypto on first order via Buy Crypto within 180 days of registration.