S
o, Windows Insider is getting free Windows 10 after all. There has been speculation that Windows Insiders, Windows enthusiasts who install Windows 10 Technical Preview or Windows 10 Insider Preview builds to help Microsoft tests the software, are getting free Windows 10 when final RTM build is released. Now, the freebie is more or less confirmed for participating Windows Insiders.
Windows 10 is already offered as free upgrade to all computers running Windows 7, Windows 8 and Windows 8.1, if the owners upgrade to Windows before or on July 29th, 2016, the first year of general availability (GA). Windows Vista and Windows XP users may need to spend up to $199 to purchase the new license of Windows 10, according to Windows 10 price list, though Microsoft may announce promotional upgrade price for those ineligible of free Windows 10 upgrade offer.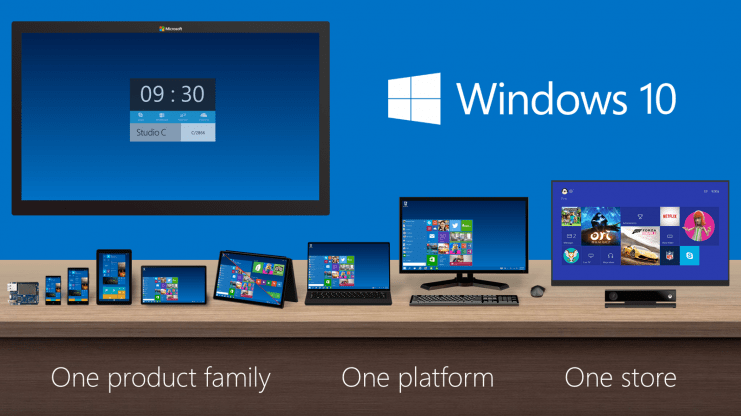 Now, there is one way to get free copy of Windows 10, that's by joining the Windows Insider program. According to Microsoft's Gabriel Aul, all systems running Windows 10 Insider Preview Home edition or Windows 10 Insider Preview Pro edition and connected to Microsoft Account (MSA) registered as Windows Insider will automatically receive the final RTM (release to manufacturing) build, and remain activated. Once the computer is installed and activated with Windows 10, Microsoft will remember it and allow clean install for the lifetime of the device.
Windows Insiders running the Windows 10 Insider Preview (Home and Pro editions) with their registered MSA connected to their PC will receive the final release build of Windows 10 starting on July 29th. This will come as just another flight. I've gotten a lot of questions from Windows Insiders about how this will work if they clean installed from ISO. As long as you are running an Insider Preview build and connected with the MSA you used to register, you will receive the Windows 10 final release build and remain activated. Once you have successfully installed this build and activated, you will also be able to clean install on that PC from final media if you want to start over fresh.
It's unclear if new Windows 10 product key will be issued to Windows Insiders who earn free copy of Windows 10 license this way. Clean installation of Windows 10 requires a genuine product key, and the publicly released Windows 10 Pro Insider Preview product key to install Windows 10 is most likely blacklisted in RTM release (and appeared to be blocked since Windows 10 Build 10147).
In essence, here's the trick and steps you need to do to get free Windows 10 license:
Register as the member of the Windows Insider Program.

You can create a Microsoft Account here if you don't already have one.

Download and install Windows 10 Insider Preview before July 29th, 2015.

Current officially released build is Windows 10 Build 10130. This release does not force you to sign in with a MSA, but subsequent builds will have notifications to ask you to login with MSA registered with Windows Insider program.

Sign in and connect Windows 10 Insider Preview to your Microsoft Account (MSA) used when registering for Windows Insider program.
Wait for Windows 10 RTM release to deliver to the computer on July 29th, 2015.
Repeat steps above for other computers that you want to get free activated Windows 10.

Note: Microsoft does not specify if one MSA is allowed to register multiple computers. So to be safe you can use multiple MSA if you have more than one devices.
That's it. Once you've done the steps above, the device will entitle and eligible to Windows 10 and all subsequent updates to Windows 10 for the lifetime of the device. You only need to do this if your device is running Windows Vista, Windows XP, Linux, Mac OS X, or is new computer or virtual machine, and you want the device to run Windows 10.
Once you upgraded to final RTM release, you're free to leave the Windows Insider program (which continues to receive future flights), and the system should continue to stay activated, provided it's the same device and connected using same Microsoft Account. (See update below)
It's unclear if Microsoft will stop the sign up process for Windows Insider Program after Windows 10 is RTM. But if it's not, it may mean that you can always get free Windows license, RTM or preview, for your computer at anytime.
It's also worthwhile to note that Windows Vista and Windows XP does not have direct upgrade path to Windows 10. You have to do a clean installation of Windows 10, as there is no way to upgrade and keep your files, settings and programs. Do also check if your system meets the Windows 10 system requirements.
Enterprise edition of the Windows 10 Insider Preview is not entitled to free upgrade to final release of Windows 10 Enterprise. To do so, you will need to download and activate it from Volume Licensing Service Center through an active Software Assurance agreement.
For Windows 7, Windows 8 (please upgrade to Windows 8.1 first) and Windows 8.1 users, just follow the steps to reserve your free Windows 10 upgrade.
Update 2: It appears that Windows Insider does get free Windows 10 license for the PC that is running the preview builds.
Update 1: Microsoft has discreetly removed the "remain activated" wordings from the blog post. Gabriel Aul has since updated the post and tweeted to clarify how to get free Windows 10 license. In short, it's still possible to get free Windows license, that's by continuing to participate in Windows Insider program and receive future preview builds, which will continue after Windows 10 is RTM. If you want to stay at RTM build of Windows 10, you must have valid license of Windows 10, one of which is free upgrade offer for Windows 7 SP1 and Windows 8.1 users.
"I want to continue as a Windows Insider!" If you want to continue as a Windows Insider past 7/29 there is nothing you need to do. You're already opted in and receiving builds in the Fast or Slow ring depending upon your selection. This is prerelease software and is activated with a prerelease key. Each individual build will expire after a time, but you'll continue to receive new builds so by the time an older prerelease build expires you'll have received a new one. Since we're continuing the Windows Insider Program you'll be able to continue receiving builds and those builds will continue to be activated under the terms of the Windows Insider Program. We provide ISOs for these builds for recovery from any significant problems, but they are still pre-release software. As part of the program we'll upgrade Insiders to what is for all intents and purposes the same build as what other customers will get on 7/29, but that will be just another build for Insiders, and those who stay in the program will simply get the next build after as well.

"I want to opt out of the Windows Insider Program on 7/29." If you decide to opt-out of the program and upgrade to the 7/29 build you will be subject to exactly the same terms and conditions that govern the offer* that was extended to all Genuine Windows 7 and 8.1 customers. This is not a path to attain a license for Windows XP or Windows Vista systems. If your system upgraded from a Genuine Windows 7 or Windows 8.1 license it will remain activated, but if not, you will be required to roll back to your previous OS version or acquire a new Windows 10 license. If you do not roll back or acquire a new license the build will eventually expire.
@ZacB_ @joebelfiore Yes, as long as running a prerelease build connected with registered MSA: http://t.co/vlaGyfwzbr

— Gabriel Aul (@GabeAul) June 21, 2015
//platform.twitter.com/widgets.js
Windows 10 - Important Information