G
oogle Calendar (previously leaked and known as Google CL2) is a online calendar service which allows you to share your events and schedules with public, besides allows users to collaborate on events or appointments by keeping track on the status, responses and comments of invitation sent to friends and families.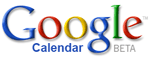 Some of the features as mentioned on Google Calendar website are:
Calendar Sharing: Set up a calendar for your company softball team, and share it with the whole roster. (Your shortstop will never forget about practice again.) Or share with friends and family so you can view each other's schedules side by side.

Invitations: Create event invitations, send them to friends, and keep track of people's responses and comments, all in one place. Your friends can receive your invitation and post responses even if they don't use Google Calendar themselves.

Quick Add: Click anywhere on your calendar where an event belongs (or use the Quick Add link), and start typing. Google Calendar understands whole phrases like "Brunch with mom at Java Cafe 11am on Saturday," and will pop new events right into your agenda.

Gmail Integration: Add your friend's Super Bowl party to your calendar without ever leaving your Gmail inbox. Gmail now recognizes events mentioned in emails.

Search: Find the date of the Baxter family BBQ (you knew it was sometime this summer). Or, search public calendars to discover new events you're interested in and add them to your own calendar.

Mobile Access: Receive event reminders and notifications on your mobile phone.

Event Publishing: Share your organization's events with the world. Learn more with our Event Publisher Guide.
PC World tried out Google Calendar and felt that Google Calendar is a good one — probably the most Google-esque new Google tool in quite awhile. The definition of Googlesque is clever, simple, useful, and obsessively respectful of the user. It has a a highly interactive AJAX-based, user friendly and nice user interface, plus collaborative tools that go beyond the basics.
Beside, Google Calendar uses open calendar standards that allow you to view your calendar using any application or device that accepts iCal format or XML files, such as Google Reader, Bloglines, Feedreader (feed readers) or a product that supports the iCal format (like iCal for Mac). On the other hand, information and events from other calendar programs such as Microsoft Outlook and Yahoo! Calendar also can be imported to Google Calendar.
Organize your schedule with Google Calendar.