G
SPDA Xplore M68 is a tri-band Palm OS Smartphone that runs Palm OS Garnet (5.4) on a TI OMAP processor, with 64 MB of RAM, an SD card slot, a 1.3 megapixel camera, 2.2-inch D-TFD 64K colors LCD screen and Bluetooth short-range wireless networking. The Smartphone supports MP3 and MPEG4 for audio and video-capturing and playback, beside SMS, MMS, WAP, email and Java.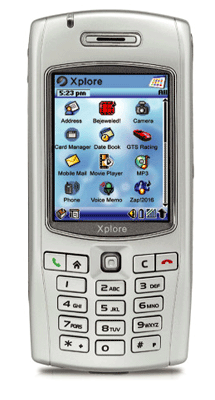 Palm InfoCenter reviewed GSPDA Xplore M68 and recommended that "for myself, I see it more as a business centric device where I can use it to read any document on the go with QuickOffice. One thing for sure, I will not edit any lengthy documents on this screen. Nothing beats editing documents on a laptop. To have a bigger screen is a plus but it also directly affects the battery life and the device's size and weight.
The battery stamina is decent for a smartphone and should cover me some travel distance and use before I need to go for another charge. It does include a USB cable for me to juice it up on the road from my laptop.
There are a few things that I dislike about the Xplore M68. One is the location of the stylus, for someone like me, it's bound to go missing within two months of use as I am used to have it on the top left or right. Or either that, I will just use my finger to write if it does go missing or I just may not bring it out…haha! I can't paste a BAK2u label on the stylus too.
Another con is, a utility to do switch from portrait to landscape screen orientation doesn't come standard, otherwise it would be perfect to have a wider screen to read e-books and watch movies.
Lastly, if it only it had a button mapping program so that I can map some of the buttons to Address, To Do, Date Book etc for faster access. Using the Palm OS for many years makes one accustomed to having these buttons standard.
Overall, I am very satisfied with this purchase despite some of its software 'flaws' but I believe there are some other third party programs that one can use to get around them. One thing for sure is that the hardware is almost top notch, and it's a good investment given its low retail price. Overall, I give the Xplore M68 4 out of 5 stars."