H
ighSpeed PC's Tech Station is a fast-access computer case. In other world, HSPC Tech Station is a a desktop computer workbench that allows easy access to computer peripherals and hardware that was once buried inside the traditional computer case. The computer case is more likely to attract PC builders, upgraders or overclockers.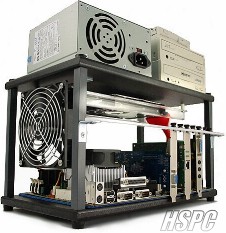 Legit Reviews reviewed HighSpeed PC (HSPC) Tech Station and felt that "the Tech Station is exactly was I was looking for to hold all of my gear that I have in my test bench. It allows me to have everything in one easy to access location, and gives me the peace of mind that all of my gear is safe and secure. This was a very easy build, and really would not take much more than the 20 minutes that is claimed by HighSpeed PC. The materials that are used are of very high quality. You can tell that this product was built by and for the enthusiast."
The HSPC Tech Station is a quality product that puts your test/bench rig in a sturdy and organized environment. If you are in the market for something like this, you cannot go wrong by giving HighSpeed PC some of your hard earned cash for this product!