I
t seems easy but to a lot of new users they will have no clue. There are basically to change the default vBulletin logo that is in place right on top of the window after installation of the forums to a custom made logo specifically designed for the forums.
The first method is by changing the logo image path in vBulletion options. Before that, the new logo must be uploaded to the server and stored within a web accessible location. Then, go to Styles and Templates -> Style Manager. Select your style and choose StyleVars within Edit Fonts / Colors etc. section contained inside All Style Options drop down menu. You will then see Title Image setting under Image Path section where you can set the image located in the 'header' template, used as the main logo for your forum. Note that if you want to use relative path, the logo image must be placed underneath the forum's directory.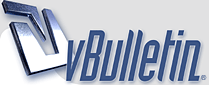 Other than setting to path to your own image, it's possible also to simply replace the default logo image file with the new logo image file. By default, the vBulletin logo file will has the path and name of forums_path/images/misc/vbulletin3_logo_white.gif or forums_path/images/misc/vbulletin4_logo_white.gif. Simply rename your own logo to vbulletin3_logo_white.gif or vbulletin4_logo_white.gif and replace the original file located in /images/misc/ folder, and next time forum is reloaded, the new logo will appear.