TMNet Streamyx is a ADSL always on connection high-speed broadband Internet access service in Malaysia provided by almost-monopoly government-owned telco, TM or Telekom Malaysia. Although the network bandwidth speed that is available for subscription is pretty low and quality of service inconsistent, from 512 kbps to b Mbps currently, however, as it's the only service provider that has nationwide infrastructure and widest coverage, the Streamyx is considerably popular.
If you're using Streamyx or any of the many TMNet services, and want to change the password, TM actually provides an online self care service that allows TM net users to manage their account. The online TM Net account management page can be accessed at https://tmbill.tm.net.my/SelfCare/Maintenance/selfcareLogin.jsp.
Update: TM Net Self Care account management has been replace with MyTM at https://mytm.tm.com.my/new/login.jsp.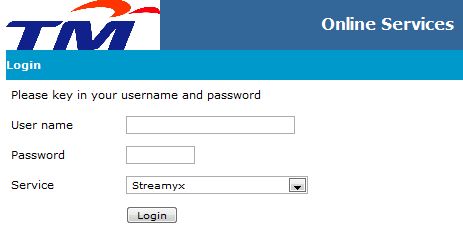 When login, enter your user name and existing password, and remember to select account of which TM Net service that you want to access. Other than Streamyx, it's also possible to manage, and hence change the password for the following services from TMNet.
tmnet 1515
tmnet 1525
Streamyx
tmnet ips
tmnet hotspot
tmnet direct
tmnet eastgate
tmnet global roaming_nifty
e-lane
ichoose
tmnet serverhosting
tmnet webhosting
tmnet commhosting
tmnet e-voice
ioffice/adsl
ioffice/pstn
JadeL@ne
Melting Pot
eToonz
Stay Ahead
Once logged in, scroll down to the bottom and click on Change Password</strong link under "Account Management" section in order to select new password for your TM Net or Streamyx account.

The TM Net Self Care portal provides a convenient way to perform many transactions online, contradict to the old days where users have to visit Clickers Authorised Service Outlets (CASO) or TMPoint outlet for any help and support. Other functions that user can perform including the following:
Free Trials
Free 7 day trial tmnet xfilter (iShield)
Free 7 day trial tmnet xfilter (eScan)
Online Registration
Subscribe to tmnet BB phone
Subscribe to bigger mailbox
Subscribe to Virus Shield & Anti-Spamming
Subscribe to tmnet frenz
Subscribe to tmnet SyncML
Subscribe to Online Storage
Subscribe Jumboplay with Bonus 2 weeks playtime
Subscribe to B-Smart Channel

Subscribe to B-Smart Festive Promo (Family Package) – RM10 per year
Subscribe to Intrique – School-Based Learning Modules
Subscribe to E-Exam – Online Workbook & Question Bank

Subscribe to tmnet mobile fun club
Insert or update mobile phone number for tmnet xms
Subscribe to tmnet xfilter

Subscribe to tmnet xfilter (iShield)
Subscribe to tmnet xfilter (eScan)

Subscribe to tmnet online guard
Subscribe to Anti Virus Solution
Subscribe to Netmyne.com Investment Manager
Subscribe to Streamyx Hotspot for Streamyx
Subscribe to tmnet global roaming
Member Get Member Programme
About Member Get Member
Join the Programme
Online Billing/Payment
Pay My Bill
View Bill
View Balance Information
View Usage Details
View Payment History
View Payment Location
Account Management
View/Update Account Information
Change Password
Download
tmnet online guard
Download tmnet xfilter(iShield)
Download tmnet xfilter(eScan)