Thinking of adding more physical memory, or RAM, to your computer to make it speedier and more responsive? Adding RAM (random-access memory) modules can be one of the way to make your system faster as memory applications and programs can make use of more memory to store and access data instead of writing and reading from slower hard disk.
The next question if you want to add more RAM memory to your system is whether there is extra memory slots available on your PC. The ability to check and know how many available free RAM slots with software without manually dismantling the computer is especially useful for laptop and notebook computer.
The following guide shows you several ways to check available free RAM physical memory slots available on Windows operating systems, including Windows 10, Windows 8.1, Windows 8 and Windows 7, and possibly Linux and macOS (Mac OS X).
Method 1: Task Manager
Open Task Manager (Right click on Taskbar and select "Task Manager" or run Taskmgr).
Go to Performance tab.

If no tabs available, hit More details to expand Task Manager.

Go to Memory section.
The information on RAM memory slots in Task Manager is not always foolproof and correct though, especially with computer that has soldered memory to motherboard. So it's important to double check against hardware specifications, or use other software application as comparison.
Method 2: CPU-Z
CPU-Z is a freeware system profiling application that detects and gathers information on some of the main devices of your system, such as CPU (Central Processing Unit), RAM, motherboard chipset and etc. CPU-Z is available in setup installer and standalone format.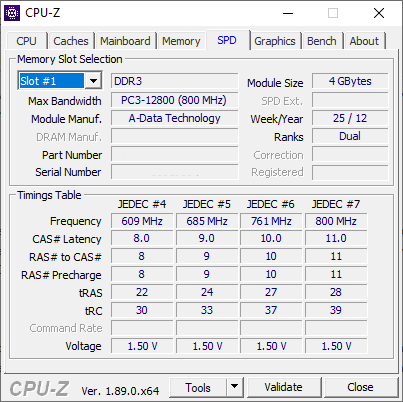 Once run, you can find information about memory at Memory and SPD tabs, where the memory slot selection will show you the available slots, used and free.
Download CPU-Z from cpuid.com.
Method 3: Speccy
Speccy is an advanced system information tool for your PC, which provides detailed information on what's inside your computer, including the number of memory slots.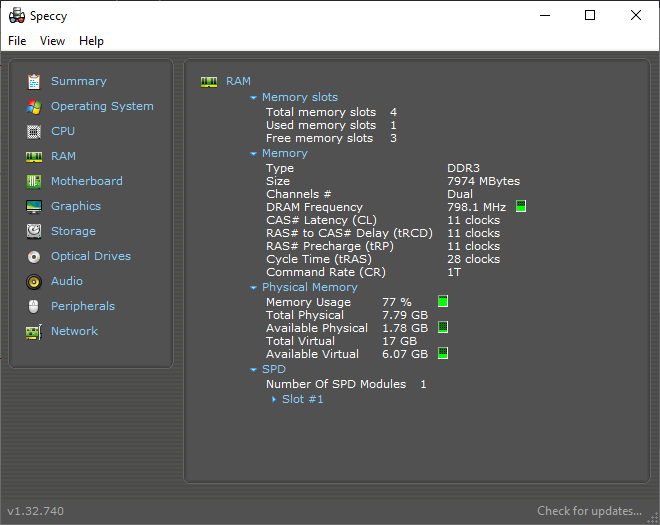 Download Speccy from ccleaner.com. Note that CCleaner may be installed together with Speccy, where you have to manually remove it.
Method 4: Crucial System Scanner
One of the more reliable way to determine how many memory RAM physical slots that are available and used on your system. Crucial System Scanner is a scanner tool provided by Crucial for customers to find compatible SSD & DRAM upgrades.

Crucial System Scanner works by simply looking at the BIOS for relevant information, and then searching the Crucial.com website for compatible matches. Thus, it does not actually retrieve the information directly from the system, but rather relying on a database which may be more accurately.
Download the Crucial System Scanner from crucial.com.