Some people has preferred the usage of dark mode, i.e. white text on pure black background, while using the computing devices such as smartphone, tablet and computer. Though dark mode is not suitable for everyone, it's trendy now, and may improve visibility for users with low vision and those who are sensitive to bright light, and save power consumption on devices with OLED or AMOLED display.
As such, more and more apps have dark mode support built-in, so does Facebook Messenger. Facebook Messenger desktop app for Windows PC and macOS Mac has incorporated dark mode which end users can turn on or off at their preference.
To turn on or turn off dark mode in Facebook Messenger desktop app, click or tap on Messenger logo on the top left corner to open up the Settings menu, then go Messenger and select Preferences. In the "Preferences" windows, go to Appearance.

To enable Dark Mode, select Dark from the Theme drop menu menu. Other options available are "Light", "Grey", "High Contrast (Light)", "High Contrast (Dark)". If you're already on dark mode on the operating system, you can also select Mirror system preferences to let the Messenger app automatically pick up the mode used in Windows or macOS.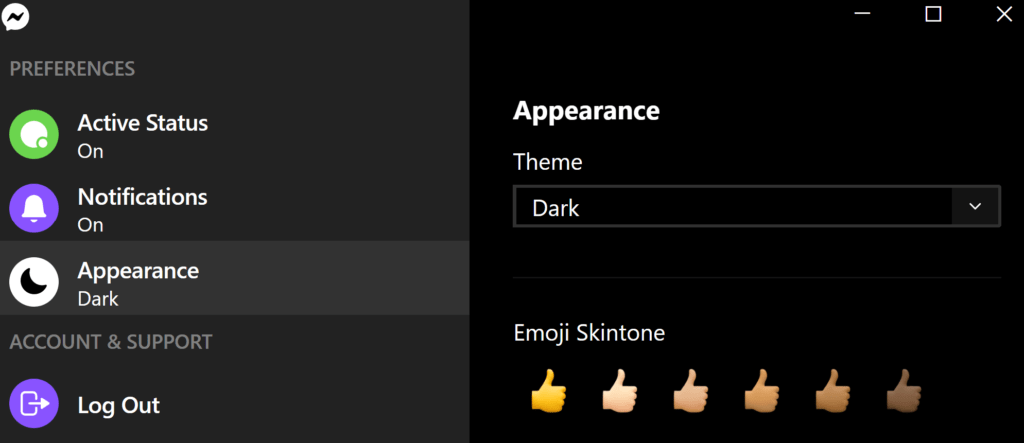 To disable Dark Mode, select Light or Mirror system preferences if your OS is not on Dark Mode.