If you're familiar with Microsoft's Your Phone app in Windows 10, you will like Dell Mobile Connect (DMC) even more, especially if you're using iOS devices such as iPhone, iPad and iPod touch. Dell Mobile Connect is a really good alternative to Your Phone, which allows you to make and receive calls, send and receive SMS text messages, get notifications, transfer files, mirror the phone's screen and control the phone through touch, mouse or keyboard.
The good deal about Dell Mobile Connect is that it actually works for both Android and iOS platform, where the latter is notoriously hard to implement these connect and remotely control from computer features. The iOS support is exactly where the Your Phone lacks, leaving iOS device users only with ability to send web pages from Edge mobile browser.
Unfortunately, as the name of "Dell" Mobile Connect implied, the DMC app is meant for Windows 10 Dell PC, officially. However, if you own a Windows 10 PC, you can still install and use Dell Mobile Connect. This tutorial shows you how to download and install Dell Mobile Connect on any Windows 10 machine, without enabling the developer mode in Windows 10.
Note
The Windows 10 machine must have Bluetooth support and enabled.
Go to Dell Mobile Connect's Microsoft Store web page: https://www.microsoft.com/en-us/p/dell-mobile-connect/9nx51w9gbs5t.
If you're on Windows 10 system, click or tap on the … button after the "Get" button, and select Add to cart.





Note

If you attempt to purchase the free Dell Mobile Connect via the "Get" button on Windows 10 PC, you will be asked and redirected to open Microsoft Store, where you can't download the app. Instead, you'll be prompted the app is compatible with your device and required an redeem code, as DMC is officially meant for Dell XPS, Inspiron, G-Series and Vostro PCs with Bluetooth purchased in January 2018 or later exclusively.



Users on mobile devices and non-Windows 10 systems can directly click or tap on Get button.

Go to the cart and Checkout. When asked to sign in, login with the Microsoft Account that you also use on the Windows 10's Microsoft Store app.
Launch the Microsoft Store app in Windows 10 PC.
Click or tap on … next to your profile picture.
Go to My Library.
Install Dell Mobile Connect.
Above steps download and install the main Dell Mobile Connect application on your Windows 10 PC. Now you need to download and install the Dell Mobile Connect companion app from either the Android's Google Play Store or App's App Store. Search in the app store or open it through the link below:
Android: https://play.google.com/store/apps/details?id=com.screenovate.dell.mobileconnect
iOS: https://apps.apple.com/us/app/dell-mobile-connect/id1241903676
Before starting to use Dell Mobile Connect, you also need to install Dell Mobile Connect Driver on Windows 10 PC. Dell does not provide a centralized place to download the latest version of DMC driver. So either make sure you search and look for the latest version and release date for Dell Mobile Connect Driver, or wait for the Dell Mobile Connect main app to prompt you to download the driver, which will definitely links you to the latest version.
Currently, the latest version of Dell Mobile Connect driver available is version 3.0, A00 released on April 13, 2020. Download it from Dell:
Dell Mobile Connect Driver: Dell-Mobile-Connect-Driver_0GDTN_WIN_3.0_A00.EXE
Now, you can start running Dell Mobile Connect to connect, pair and link the Windows 10 PC with Android and/or iOS smartphone via Bluetooth. Open Dell Mobile Connect on both Windows 10 and iOS or Android phone.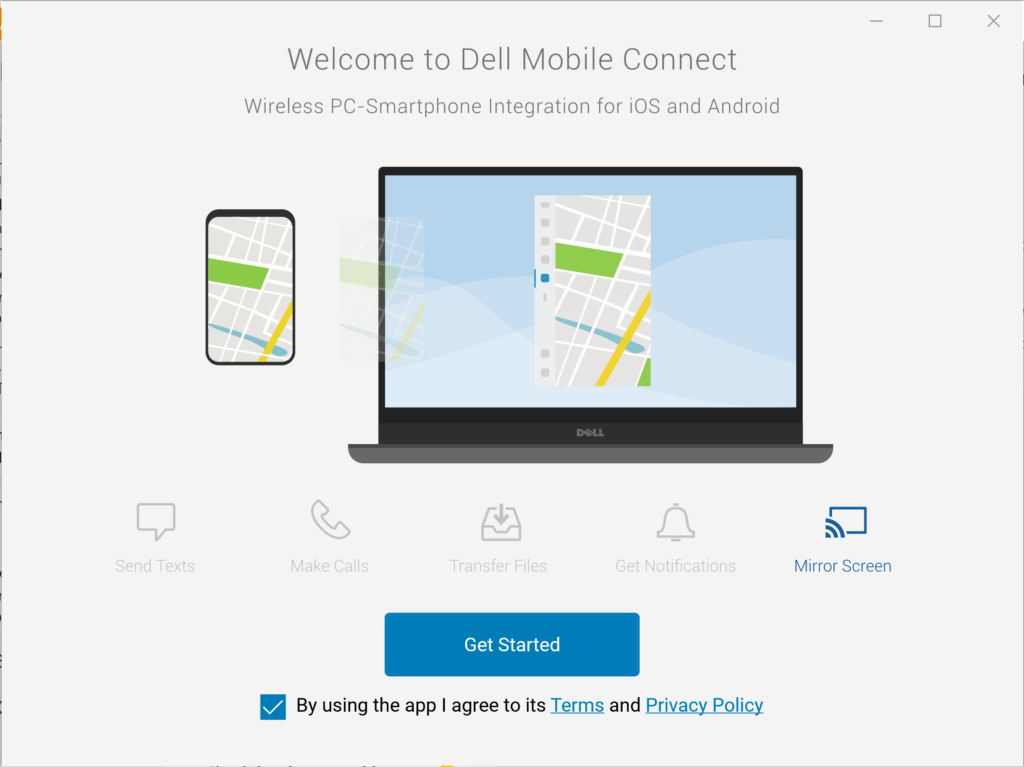 Follow on-screen instruction to complete the connection. Then, you can start to receive and manage notifications, text messages, make calls, download files or copy files to phone mirror the screen and even remote control the phone from computer. Dell Mobile Connect appears to be using Apple's ReplayKit framework used by screen recording to broadcast the screen live.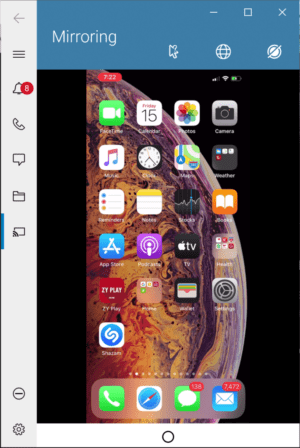 To enable the remote control on the mirrored iPhone screen, Dell Mobile Connect simulates adaptive accessories. Thus you need to enable AssistiveTouch in Accessibility -> Touch. Other settings you can configure depending on your preferences are:
Show Onscreen Keyboard (recommendation: ON): To enable the virtual keyboard during mirroring.
Always Show Menu (recommendation: OFF): Remove AssstiveTouch control while mirroring, so that only mouse pointer is shown.
TRACKING SPEED (recommendation: minimum (turtle): For phones with iOS version earlier than 13.4. Dell Mobile Connect uses this to synchronize your PC's mouse and your iPhone's pointer.
Idle Opacity: To change opacity of AssistiveTouch control.