Other than software to burn ISO images to CD or DVD in Windows operating system, users may also want to mount the ISO, CUE/BIN, IMG, VCD (FarStone Virtual Drive), NRG (Nero Burning ROM), CCD (CloneCD), CIF (Easy CD Creator), DVD, UDF, MDS (Media Descriptor File), CDI (DiscJuggler), BWT (BlindWrite), PID (Instant CD/DVD Copy), B5T (BlindWrite 5) and other CD or DVD image file and open the data content in Windows itself without actually need to write the image to physical CD or DVD disc. There are plenty of free and paid CD and DVD emulation software applications that create virtual CD and DVD drives to mount and play CDs and DVDs via software simulation.
Native ISO and IMG Archive Image Format Support in Windows 8 / Windows 8.1 / Windows 10
Beginning from Windows 8, including Windows 8.1 and Windows 10, Windows OS has native support to mount and open both .ISO and .IMG disc image files without any third-party software. Just double-click a .ISO or .IMG disc image, or right click on the file and select "Mount", or click the "Disk Image Tools" tab on the ribbon to select "Mount" in order to open the disc image in Windows Explorer or File Explorer as if it's inserted into a physical CD/DVD drive.

To unmount the disc, just right-click the virtual DVD/CD disc drive and select "Eject", where the disc will be unmounted and the virtual drive will disappear from the Explorer.
WinCDEmu
WinCDEmu is an open-source CD/DVD/BD emulator that allows you to mount optical disc images by simply clicking on them in Windows Explorer and use it without burning it to a blank disc.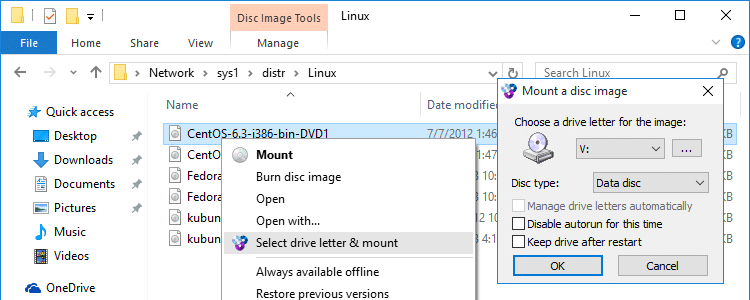 Features of WinCDEmu:
One-click mounting of ISO, CUE, NRG, MDS/MDF, CCD, IMG images.
Supports unlimited amount of virtual drives.
Runs on 32-bit and 64-bit Windows versions from XP to Windows 10.
llows creating ISO images through a context menu in Explorer.
Small installer size – less than 2MB!
Does not require rebooting after installation.
A special portable version is available.
Translated to more than 20 languages.
Does not occupy drive letters when not used.
Supports data, DVD-video and BD-video images.
WinCDEmu is free for any kind of use – it is licensed under LGPL.
Download WinCDEmu.
DAEMON Tools
Daemon Tools / Daemon Tools Pro is CD and DVD emulation software which allows users to make CD/DVD disc images, create a virtual CD-ROM / DVD-ROM drives and play CDs and DVDs without the need for the physical disc or burning the image to disc. Daemon Tools program is famous as advanced application for multiprotection emulation, which emulate Generic Safedisc to allow running backup copies of SafeDisc (C-Dilla), Securom or Laserlock protected games. DAEMON Tools supports the most variety of popular image files including .cue, .bin, .iso, .ccd, .bwt, .mds, .cdi, .nrg, .pdi, .b5t.
Daemon Tools has free Lite or paid Ultra and Pro version. Note that the free Lite version (and even paid versions) comes with an advertising software (aka spyware). You should try not to install the adware while installing. But most importantly, DAEMON Tools has full support and compatibility with all editions of Windows 10, together with Win 8.1, 8, 7, Vista, 2000, XP and 2003.

Download latest version of DAEMON Tools Lite with SPTD (CSI Pass Through Direct Layer) from disk-tools.com. Once downloaded, simply run the installer to setup the virtual optical drive.
Virtual CloneDrive
Virtual Clone Drive is a free, small and lightweight virtual CD-ROM and DVD-ROM emulator that let users mount .iso, .ccd, .dvd, .img, .udf and .bin/.cue image files just like a physical CD/DVD drive.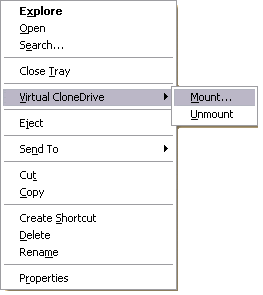 Virtual Clone Drive supports and tested to work on almost any versions of Windows operating system, including both 32-bit and 64-bit of Windows 98, Windows ME, Windows 2000, Windows XP, Windows Vista, Windows 7, Windows 8, Windows 8.1, Windows 10 and so on. It's free, so if you just want a virtual drive only without any crap to mount your disc image, Virtual CloneDrive is perfect alternative.
Simply download the installer to setup up to 8 virtual drives. You may need to restart the computer. If you choose to associate the supported image file formats and extensions with Virtual CloneDrive, you can then simply double-click on an image file to mount as a drive. The usual way to mount an image still work, i.e. right click on virtual drive to select mount image option. To differentiate the virtual drives from physical drives, Virtual CloneDrive also has Virtual Sheep logo as icon, which can be turned off at settings.
Download latest version of VirtualCloneDrive: (SetupVCD.exe)
MagicISO MagicDisc
MagicDisc is freeware virtual CD/DVD-ROM from MagicISO which allows users to use almost all CD/DVD image without burning them onto CD or DVD in order to easily access your favorite games, music, or software programs. MagicDisk works like a real CD/DVD-ROM, where users can run programs, play games, or listen to music from your virtual CD-ROM. By using virtual CD/DVD-ROM, users have the added advantage of runnuing game images at over 200x faster than from a conventional CD/DVD-ROM.
MagicDisc supports the following CD/DVD image formats: .bin (CDRWin), .ima/.img (generic disk images), .cif (Easy CD Creator), .nrg (Nero – Burning ROM), .img/.ccd (CloneCD), .mdf/.mds (Fantom CD), .vcd (Farstone Virtual Drive), .VaporCD (Noum Vapor CDROM), .p01/.md1/.xa (Gear), .vc4/.000 (Virtual CD), .vdi (Virtual CD Manager), .c2d (WinOnCD), .bwi/.bwt (BlinkWrite), .cdi (DiscJuggler), .tao/.dao (Duplicator), .pdi (Instant Copy) and many more. It supports Windows 8, Windows 7, Windows Vista, Windows Server 2008, Windows 2003 and Windows XP officially, though should works also in Windows 10. It works on both 32 and 64 bits edition of Windows.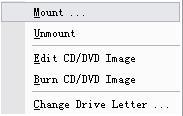 Download MagicDisc for Windows XP/2003/2008/Vista/7/8/10 (setup_magicdisc.exe)
Download MagicDisc for Windows 98/ME/2000 (setup_magicdisc105.exe)
Alcohol 52%
Alcohol 52% is the sibling of Alcohol 120%, and is a CD and DVD emulation software that can create up to 31 virtual CD/DVD-ROM drives, allowing the user to play CDs & DVDs without the need for the original disc. Free version of Alcohol 52% can handle up to 6 virtual CD DVD-ROM drives, all at once with the reading speed of 200X. Alcohol 52% supports normal CD DVD and CD RAW sub-channel reading methods: RAW reading method enables to emulate all CDs. CD formats supported: CD-DA, CD+G, CD-ROM, CD-XA, Video CD, Photo CD, Mixed Mode, Multi-session CD, while DVD formats supported: DVD-ROM, DVD-Video, DVD-Audio Support for all current (ATAPI SCSI) drives: CD-R, CD-RW, DVD-RAM, DVD-R, DVD-RW, DVD+RW. It also includes full support for IEEE-1394 (Firewire) and USB protocols.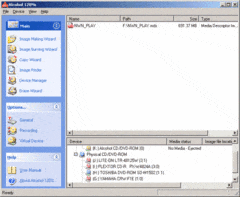 Download Alcohol 52% Free edition form filefacts.com. Note that Free Edition includes Protection Database Search Toolbar, a spyware or adware.
Fantom DVD Virtual C/DVD-ROM
Fantom DVD Virtual C/DVD-ROM simulation driver and C/DVD image file mount software is a program from Taiwan which supports x86 and x64 of Windows Vista, XP and 2003, and 32-bit Windows 2K and Tablet PC 2005. It's a component of Fantom DVD Professional which has both C/DVD-simulation function and the function to record the C/DVD image file to a blank C/DVD if you have a C/DVD recorder.
Download Fantom DVD Virtual C/DVD-ROM FantomDVD-20070724.zip (no longer available). Updated release can be found at Fantom DVD homepage (defunct).
Other Possible Alternatives
In fact, other than the above listing of native OS support for archive image and free virtual CD-ROM and DVD-ROM drive emulator which can be used to mount ISO and other image files in Windows, there are a lot more paid software utilities which require payment or license, or free through ads-support such as Alcohol 120%.
Another possible alternative is to simply open up the ISO or image file to extract the contents directly. This workaround will work on most data CD/DVD except Audio CD, Video CD, DVD and Blu-Ray movie. In fact, if you have popular CD and DVD image file processing tool such as PowerISO, UltraISO, and even compression and extraction utility such as WinRAR, you can already unpack and extract the contents of ISO image file easily.