Chitika | Premium is a new interactive and behaviorally CPC (from publisher point-of view: earning per click) based ads unit to show better-targeted ads yielding high performance CRT and eCPM for website's premium traffic. The launch of Chitika | Premium signals departure of Chitika ads network from product-centric contents, as Chitika | Premium can be placed on any website with any type of content such as automotive, finance, health, gadgets and electronics, news, sports, travel, etc.
Once downside of Chitika | Premium ads unit is that, as its "premium" implied, it's shown and displayed only to U.S. traffic (visitors from United States of America). If you're from other countries, the ads won't be shown. And since it's also "behaviorally targeted", where behavior detection depends on the search keywords, it means that even if you're in USA, the Chitika | Premium ad unit may not appearing and stay hidden (Chitika | Premium will auto collapsing and hidden if there is no ads been displayed, unless an alternative URL is been configured).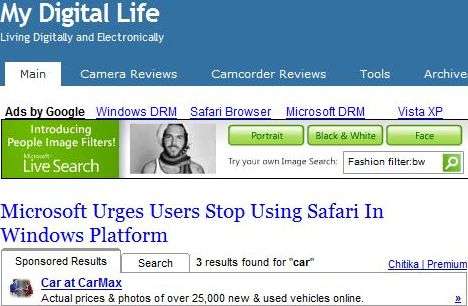 So, how to preview or test the Chitika | Premium ad unit? Chitika has offered a preview switch that will force and make Chitika | Premium ads to display on the website or blog even if it's not to be targeted officially.
To preview Chitika | Premium ads, simply append or add the following text to the end of the URL, and then hit "Enter" key, follow by "Ctrl+R" hotkey (or click "Refresh" button) to reload the page. This is because # is treated as a jump to the "chitikatest" anchor tag section, which of course doesn't exist and thus web browser doesn't do anything when press "Enter" key.
#chitikatest
For example,
To preview Chitika premium ads on Tech Journey homepage (which is https://techjourney.net/), make the URL as https://techjourney.net/#chitikatest.
The default keyword used by #chitikatest is mortgate. If you want to preview ads for other keywords, use the following syntax:
#chitikatest=keyword
Where keyword is the term for the Chitika | Premium ad unit. For example, #chitikatest=gadget.
If the ads still doesn't appear, try to clear the cache and temporary Internet files.