H
P iPAQ hw6915 Mobile Messenger is a Windows Mobile 5 (WM5) powered Pocket PC PDA and quad band GSM/GPRS/EDGE phone cum GPS that features Intel PXA270 Processor 416 MHz, 192MB memory, 3.0″ 64K colors transflective TFT LCD screen with LED backlight plus power save mode, integrated alphanumeric keyboard with LED backlight, integrated WLAN 802.11b, integrated Bluetooth 1.2, integrated IrDA, integrated high sensitivity GPS receiver with TomTom Navigator plus 1 free city map of choice, integrated 1.3 megapixel HP Photosmart camera, integrated microphone, integrated speaker and mini SD support. HP iPAQ hw6915 (or 6915) Pocket PC Phone weighs 175g.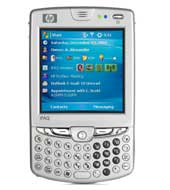 vnunet (dead link) reviews HP iPAQ hw6915 Mobile Messenger and concludes with overall rating of 4 out of 5 that hw69515 Pocket PC Phone is good for internal GPS with maps, 1.3 megapixel camera, Bluetooth and Wifi built in. However, its internal memory may need supplementing. Overall, the HP iPAQ hw6915 is everything you could want in a handheld computer, though at an early-adopter price.
CNet Crave says iPAQ 6915 is Swiss Army handheld with conclusion that it isn't cheap at £453, but considering it does just about everything that a laptop can do (and more), we think it's a small price to pay.