H
TC Hermes aka T-Mbile MDA Vario II is UMTS and HSDPA Pocket PC Phone powered by a 300MHz Samsung processor with 128MB flash memory and 64MB memory. T-Mobile MDA Vario II (HTC Hermes) features a 2.8-inch LCD display, 802.11b/g wireless WiFi, Bluetooth 2.0, MicroSD slot, 2.1 megapixel camera, and a secondary video conferencing camera.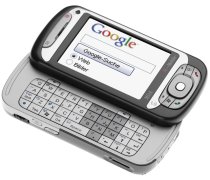 msmobiles (link dead) reviewed HTC Hermes / T-Mobile MDA Vario II and concluded that the phone is sensational. This phone is so fantastic, that sometimes it is breathtaking. HTC Hermes will be available as T-Mobile MDA Vario II in Europe, as i-mate JASJAM globally and at some other operators and distributors. This is a phone can make your life much more pleasant and thanks to the sensational wheel, you will be able to use a lot of applications with fantastic ease!
the::unwired had a look on pre-production unit and said that the Hermes is really small, close to the HTC Wizard, a little bit longer and thicker than the HTC Magician/Prophet but it features a slide-out keyboard, which is way better than the Wizard keyboard (pretty similar to the Universal keyboard) and not to forget it features UMTS and HSDPA. Also the 300 MHz Samsung CPU is pretty good in terms of speed (hadn't had the chance to test the standby time yet) and it features a 2.1 megapixel camera with macro option.
Check out more reviews on HTC TyTN (HTC Hermes).