Internet Explorer 6 (IE6) in Windows XP Service Pack 2 (SP2) or Service Pack 3 (SP3) may stops responding and crashing when users try to a visit a web site. The IE6 not responding problem also affects shell browsers based on IE engine such as GreenBrowser and TheWorld. In these cases, all IE windows and tabs will be not responding, closing and exit with the following error message.
Internet Explorer has encountered a problem and needs to close. We are sorry for the inconvenience.

If you were in the middle of something, the information you were working on might be lost.
Please tell Microsoft about this problem.

We have created an error report that you can send to help us improve Internet Explorer. We will treat this report as confidential and anonymous.

To see what data this error report contains, click here.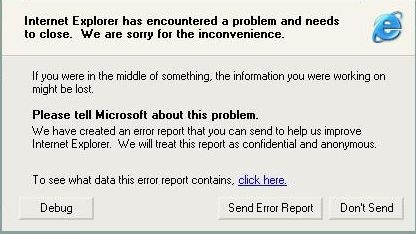 If user clicks on the error report link, there following error-signature information will be shown.
AppName: iexplore.exe
AppVer: 6.0.2900.2180
ModName: urlmon.dll
ModVer: 6.0.2900.3231
Offset: 0003b5ce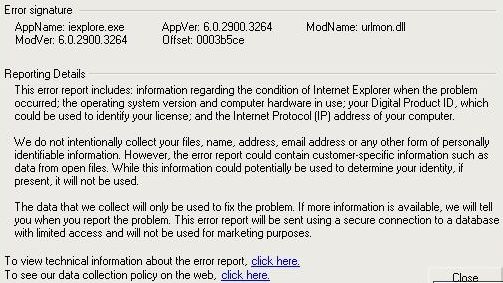 The issue is caused by security update 942615 (MS07-069) which was released in December 2007, which probably rolled out KB942367, which also requires users to manually create and enable the Iexplore.exe registry entry. The problem has been identified by Microsoft, and KB946627 hotfix or patch have been made available to address and fix the error by creating the required registry key.
Download and install the WindowsXP-KB946627-x86-ENU.exe, or use the following alternative manual steps or run registry key file to add the registry key.
Click Start, click Run, type regedit, and then click OK.
Locate and then click the following registry subkey:

HKEY_LOCAL_MACHINE\SOFTWARE\Microsoft\Internet Explorer\Main\FeatureControl\

On the Edit menu, point to New, and then click Key.
Type FEATURE_PROTECT_DECOMPRESSION_FILTER_FROM_ABORT_KB942367, and then press ENTER.
Right-click FEATURE_PROTECT_DECOMPRESSION_FILTER_FROM_ABORT_KB942367, point to New, and then click DWORD Value.
Type an asterisk symbol (*), and then press ENTER.

Note

The asterisk symbol (*) represents any process name that uses Urlmon.dll. If you want to make this change for an individual application that uses Urlmon.dll, you can use the name of that application instead of the asterisk symbol (*). For example, you can use Appname.exe.

Right-click the asterisk symbol (*), and then click Modify.
In the Value data box, type 1, and then click OK.
Exit Registry Editor.
An easier workaround is to simply download and execute the iekb942367.reg (no longer available) file to insert the missing registry value.