K
ingston HyperX memory module is a high-performance memory specifically designed and engineered for serious gamers which features higher speeds and lower latencies. With HyperX DDR2, the memory modules also offers faster speeds, lower latencies, higher data bandwidths and lower power consumption compared with HyperX DDR. Kingston's KHX6400D2LLK2/2G, which is tested and reviewed by Legit Reviews, is a kit of two low-latency 128M x 64-bit 1GB (1024MB) DDR2-800 CL4 SDRAM (Synchronous DRAM) memory modules, based on sixteen 64M x 8-bit DDR2 FBGA components per module, which run at DDR2 800MHz at low latency timing of 4-4-4-12 at 2.0V, while the SPD is programmed to JEDEC standard latency 667Mhz timing of 5-5-5-15 at 1.8V.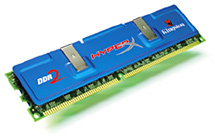 There is also Kingston KHX6400D2LLK2/2GN memory module that are basically has the same features but it's also NVIDIA SLI Ready that features Enhanced Performance Profiles (EPP).
Legit Reviews reviews and tests the Kingston HyperX KHX6400D2LLK2/2G KHX DDR2 (PC2-6400) CL4 memory module on Intel's Bad Axe (D975XBX) motherboard using Presler and Conroe processors, and concludes that "we found the standard Low Latency 2GB kit (Part #KHX6400D2LLK2/2G) over at Newegg for $297.99 after the $25.00 Mail-In Rebate. The standard HyperX PC2-6400 part with CL5 memory timings will set you back $261.62, which means the Low Latency modules carry a $36 price premium. After looking at the gaming performance and overclocking results we would be more than willing to pay the extra $36 and get the faster screened Elpida IC's that can run CL4 timings. If you're going to spend upwards of $300 on performance memory you might as well splurge and spend the extra cash. You'll be happy in the long run when you find out the memory you purchased can do more than what the label says. If you don't want to spend $300 on memory then take a look at the 1GB kit, which will set you back a little less with a smaller $165.50 price tag and the same timings."
Kingston's HyperX PC2-6400 Low Latency memory kits take Kingston's impressive HyperX line to the next level with CL4 timings at 800MHz to power the latest enthusiast platforms.