K
odak EasyShare C643 Zoom Features and Specifications:
Kodak EasyShare C643 Zoom Digital Camera Official Homepage
(no longer available)
Kodak EasyShare C643 Zoom Reviews and Comparisons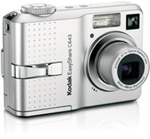 DigitalCameraInfo (First Impression) (dead link): Kodak has done a lot of work in studying its cameras' target audience: the beginners. So the Kodak EasyShare C643 has not one ounce of extra "fat", not one feature that a professional would ask for, such as adjustable contrast or sharpness setting. On the other hand, it has a great deal of functionality in the area that a beginner would want, and care a great deal about. The image tagging and editing possible with the software and the direct print ability continue to serve Kodak well. It's a tried and true simplified file management system. And the C643 has a dock for the ultimate in fast and easy image printing, which recharges batteries to boot. In fact, the cameras are specifically integrated into the printing function; they make you want to print the images, because it is so easy to do so. So if a competitor's camera has the C643 beat on this feature or that, the camera still can point to its docking system, which no other company has executed in quite the same slick way.
In short, the C643 offers no surprises over Kodaks of years past, but it appears as solid, simple and dependable as the Kodaks that have come before. (Further testing is needed to ascertain image quality, of course.) We can't frown on Kodak too much for sticking with a formula that's already proven to be so successful. If you want innovation or unusual features, this Kodak should be low on your list. But if you're a newcomer to digital photography, the EasyShare C643 will probably serve just fine.