L
enovo 3000 J105 is the first Lenovo-branded computer that launches worldwide since Lenovo acquired IBM personal computer division. Lenovo 3000 J105 is also a first Lenovo computer that powered with AMD CPU. The budget computer doesn't have PCIe, replaced it with old technology PCI instead, where you can plug in ultra cheap sound and display card, and extra Lenovo Care that based on ThinkVantage technology.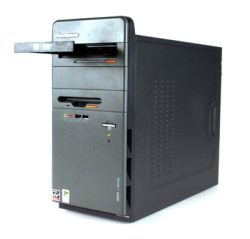 PC Magazine gave Lenovo (IBM) rating of 3.5 out of possible 5 and commented that "I can see the Lenovo 3000 J105 being attractive to new small-business owners who used to work in the corporate arena and are drawn to the ThinkVantage suite. The look-and-feel of the J105 is an appealing twist on the standard corporate box that once occupied their desks, and should be a comforting companion now that they are off on their own. The sub-$550 price with a mainstream Athlon 64 processor is a huge plus."
Bottom Line: It may be odd to see an AMD chip in a business PC, but the Lenovo 3000 J105 surprises us with an attractive yet low-cost desktop for the home office.
Pros: Quiet. Inexpensive. Includes business-oriented software and utilities. ThinkVantage Rescue and Recovery.
Cons: No PCIe card slots. Included Norton Internet Security subscription lasts for just 90 days.