L
enovo ThinkPad X60s is an ultraportable class of notebook powered with ultra low voltage Intel processor and features 12″ XGA 1024 x 768 LCD panel, long battery life plus almost all available wireless options – 802.11a/b/g Wi-Fi, Bluetooth, and Verizon's high-speed EVDO network for mobility. ThinkPad X60s weighs just 3.5 pounds and has a dimension 0.5 x 8.3 x 0.8 inches.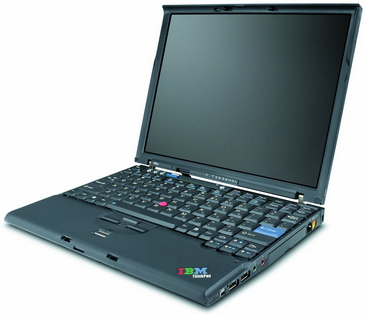 PC Magazine reviews Lenovo ThinkPad X60s and picked the ThinkPad X60s as Editor's Choice with rating of 4.5 out of possible 5. The comment is "it you're looking for an ultraportable, you have a tough decision to make. The Sony SZ170P is a very compelling system, but with its shorter battery life and slightly larger footprint, it's better suited for daily commuters than for frequent flyers. The ThinkPad X60s is our Editors' Choice, a perfect companion for those who spend most of their days traveling."
Bottom Line: For those who live out of a suitcase and fly frequently, this ultraportable provides integrated EV-DO and plenty of battery life.
Pros: More than 7 hours of battery life. Integrated EV-DO. Best keyboard. Excellent management utilities. 3 USB ports.
Cons: No built-in optical drive. Hard-to-use docking station. Runs a little warm.