L
ogitech G7 Laser Cordless Mouse features 2,000-dpi laser engine, 2.4-GHz transmitter, Polytetrafluoroethylene (PTFE) gaming feet, in-game sensitivity switching and two battery packs.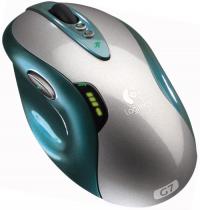 Sci-Tech Today reviewed the Logitech G7 Cordless Mouse and rated the mouse 4.5 out of possible 5, and concluded that gamers can forget about the slow response time that plagued wireless mice in the past. The Logitech G7 is both fast and precise. It's an all-around great performer that all gamers will love.
Pros: Fast and precise; hot-swappable batteries, on-the-fly sensitivity switching.
Cons: Unimpressive battery life.
Full Review (link dead)