L
ove your laptop? Protect it! Macally has a disposable LCD screen protector for Mac computer or any notebook or laptop computer. Macally screen protector will protect the computer screen from scratches and finger prints and avoid permanent keypad scratch marks on LCD screen.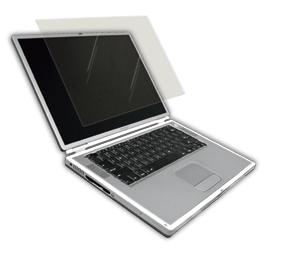 MacNN applied the Macally screen protector on Mac PowerBook and concluded that "the first thing I noticed was a sharpening of text, a very good thing for me. The second effect, which is a bit unfortunate, is that the plastic screen protector reflects light. If you are working by a window or a lamp is shining directly on your screen you may experience some problems with reflections or glare. You need to decide whether this presents an unworkable condition as lighting varies. The screen protector does an excellent job of keeping my screen clean, and free of dirt, smudges, and dust. The protector is easily wiped off and if it becomes scratched, you can easily replace it. The adhesive did not leave discernible marks on my screen when I removed the screen protector. I am thrilled to be able to work with a clean and bright screen each time I open the machine."
Rating given is 4 stars out of possible 5. The good are that it provides basic screen protection, can't leave it behind and has three sheets in each package. While not so good is it reflects light and glare may interrupt work.