N
otification balloon tool-tips or pop-ups from Windows Vista notification area or system tray has a solid background just like in previous version of Windows XP. The solid background color balloon tip looks so ugly and 'unVista', especially when desktop theme is set as Windows Aero with glass transparency effect, just like shown in figure below.

How about turning the balloon tip popup to looks like something like figure below, with transparent background and blur effect, which once also appeared in Windows Server 2008 (Longhorn Server) beta.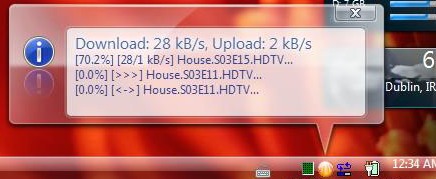 Glass Toast for Vista is a small utility to display notification messages in transparent glass effect with masking and blurring ability.
Features of Glass Toast include:
Intercept notification balloons and replace the pop-ups with a glass toast (style as how it's displayed in Windows Server LongHorn build 4000 series). Only mouse over popups in taskbar will be left untouched.
Glass toast notifications give the same response as real balloons (eg. click here on balloon will initiate the same action with glass toasts).
Make stuff a bit prettier.
Support skins – skinnable for different balloon style.
Skin picker.
Silence command line argument.
Support dropshadow (unshadowed PNG image file is included).
Customization options.
Masking the blur.
Works in Windows XP too, beside Windows Vista.
Glass Toast is skinnable, where users can customize how the transparent balloon tips will look like. Here're some points to note if you intends to create your own skin for Glass Toast. Currently in Glass Toast, all offset values are hardcoded, and all others are derived from bitmap sizes. There is also inefficiency in DWM blurring, as such, mask.bmp is used for masking out the blur on parts that should be 100% transparent, with white for invisible and black for visible in the mask.bmp. Beside, in some applications that does not use the correct flags, there will be compatible problems with GlassToast.
Download Glass Toast (version 3) from mpj.tomaatnet.nl (original software no longer available but there is alternative – glasstoast.zip).
To run GlassToast.exe everytime when Windows starts, simply add it to the Startup program group. It can be used with "-silence" switch that will make the starting balloon not popup. It comes with some default skins style such as Longhorn, Longhorn with no shadow and beta1 style toasts.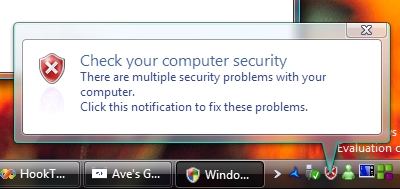 Beta1 skin for Glass Toast


Other glass transparency styles for notification balloon tip enabled by Glass Toast.
If you prefer the effect shown in top of this article, it's actually made by John Tian. You can download the john.zip zip file (no longer available), and extract the folder to Skins directory under Glass Toast.