Mass Effect 2 is an single-player action role-playing video game developed by BioWare and published by Electronic Arts, and available for Microsoft Windows, Xbox 360 and PlayStation 3 on 2010 and 2011. Mass Effect 2 is the second installment of the Mass Effect series and a sequel to the original Mass Effect.
In anticipation of upcoming release of the forth instalment of Mass Effect game series, Mass Effect: Andromeda, in March 2007, the publisher EA has made Mass Effect 2 for Windows PC available for free download via Origin. Origin is EA digital game download platform that allows games to easily download, install, and play the PC games.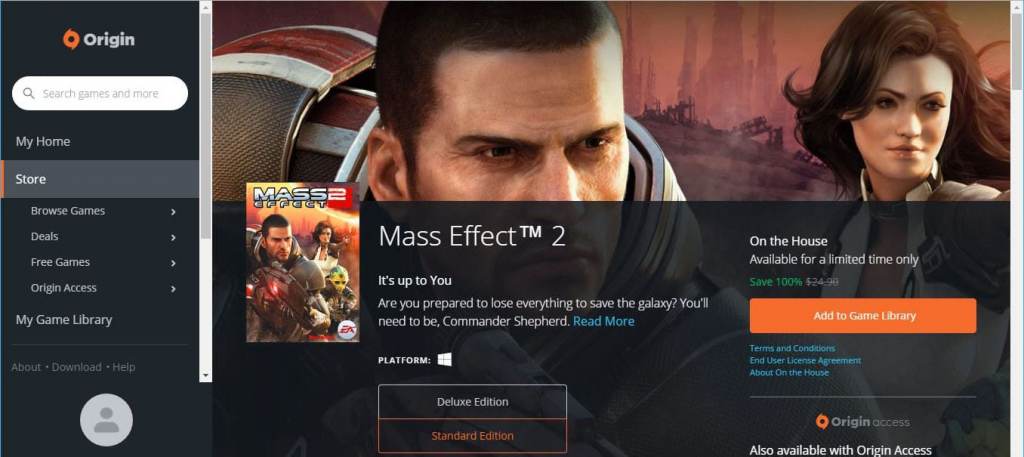 You can add Mass Effect 2 Standard Edition to your game library on Origin for free, a 100% discount which otherwise costs $24.99. Once it's in your game library, you can download it via Origin. The offer is available via On the House, which periodically provides full PC games and expansions for gamer to enjoy for free.
Mass Effect 2 has received universal critical acclaim from video game publications and players. The game takes place within the Milky Way galaxy during the 22nd century, where humanity is threatened by an insectoid species known as the Collectors. The player takes the role of Commander Shepard, an elite human soldier who must construct and gain the loyalty of a diverse team in order to defeat the enemy in a suicide mission, through a third-person perspective.
The free Mass Effect 2 is available for a limited time only, so grab it while it's available.