M
icrosoft has released Windows 10 Insider Preview Build 14342, one of the builds in the Windows 10 Redstone development branch, for both PC and Mobile. Thew new build is available for Windows Insiders in the Fast ring and Slow ring.
Windows 10 Build 14342 has the full build string of 10.0.14342.1000.RS1_RELEASE.160506-1708, indicating that it was compiled on almost 2 weeks ago, on May 6th, 2016.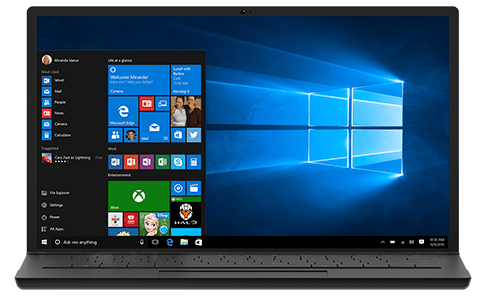 Microsoft detailed the new features, fixes, changes, and improvements in Windows 10 Build 14342. Here's the major features and highlights:
Updates for Extensions in Microsoft Edge: Instead of extracting and loading extensions from a local folder, all available extensions can now be downloaded directly from the Windows Store. This change means that your currently installed extensions will be removed, and you'll have to reinstall the ones you want from the Store. Then in future updates, your extensions will be automatically re-downloaded and installed.

Starting with this build, both AdBlock and Adblock Plus are now available for download in the Windows Store in addition to Pin It Button, Mouse Gestures, Reddit Enhancement Suite, Microsoft Translator, and OneNote Web Clipper. It is recommended that you only install one of either AdBlock or Adblock Plus as having them both running at the same time can cause issues with viewing websites in Microsoft Edge.

Real-time web notifications in Microsoft Edge: Microsoft Edge now supports real-time web notifications, which allow participating websites to send notifications to you via Action Center, with your permission. For example, when your friend sends you a message on Skype for Web while you're busy in the Xbox app, you won't miss a thing. A notification from the website will appear in Windows, just like an app might send. Click on the notification and you'll be right back in Microsoft Edge at the site that sent it!

Swipe navigation in Microsoft Edge: With this build, you can now swipe from anywhere on the page to get back to your previous page.

Bash on Ubuntu on Windows Improvements:

Symlinks within the Windows Subsystem for Linux are now functional on the mounted Windows directories. This fix helps support many scenarios including the npm installer.
Users with non-Latin Windows usernames are now able to install Bash on Ubuntu on Windows.

Skype UWP Preview Update: The Skype UWP Preview app has been updated will be updated tomorrow (5/12) via the Store in response to your feedback. In this release, you have the ability to set a dark theme and can switch between different Skype accounts. You can expect mobile release in the June timeframe.

Updated Windows Ink Workspace icon: We have updated the Windows Ink Workspace icon on the taskbar. The new icon shows a more expressive ink stroke and is more consistent with other icons in the notification area. The new icon also looks better at wider range of sizes.

Updated visuals for User Account Control dialog: The UAC dialog now supports dark mode! As part of this work, we've updated also the header color from yellow to blue.

Middle-click for dismiss in Action Center: Action Center now supports the popular dismiss model of middle-clicking on a notification via the middle button scroll wheel on your mouse to a single notification. Middle-clicking on an app's name will dismiss all the notifications listed for that app.

Apps for websites: Able to redirect certain websites to open with an app instead. While there are currently no apps that support this, in preparation for their availability we have added a new page at Settings > System > Apps for websites where you will be able to manage them. Please stay tuned!

Feedback Hub improvements: Now when you create new feedback, the Feedback Hub will suggest categories and subcategories based on the title and description you entered. If you see a suggestion that looks right, just click it to fill in the menus and get your feedback to the right engineers quickly.
Download, install and upgrade to Windows 10 Build 14342 by opening Settings -> Update & Security -> Check for Updates.
Update: Windows 10 Build 14352