After a lot of noise made by subscribers and customers of MSDN (Microsoft Developer Network) and TechNet, Microsoft has decided to bring forward the schedule for release of the release-to-manufacturing (RTM) version of Windows Vista SP1 for these IT professionals and developers, who pay hundreds of dollars annually just to have exclusive access to libraries of Microsoft software products.

The original schedule placed the availability of SP1 RTM on early March, which is too late for many, as Windows Vista SP1 has been finalized and supposed to go live on February 4th. On February 14 Valentine's Day, the RTM versions of Windows Vista SP1 has finally been posted on MSDN and TechNet Plus, ahead of general availability which still unchanged on March.
TechNet Plus subscribers can now access Windows Vista SP1 in the Top Subscribers Download section on the subscriptions home page (http://technet.microsoft.com/subscriptions), while MSDN subscribers can also access Windows Vista SP1 via the subscriber Top Downloads area at http://msdn2.microsoft.com/subscriptions.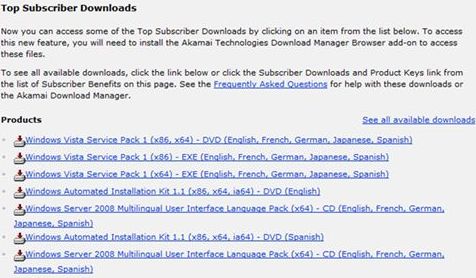 The versions of Vista SP1 setup packages that currently available are:
Windows Vista Service Pack 1 (x86, x64) – DVD (English, French, German, Japanese, Spanish)
Windows Vista Service Pack 1 (x86) – EXE (English, French, German, Japanese, Spanish)
Windows Vista Service Pack 1 (x64) – EXE (English, French, German, Japanese, Spanish)
To use the Top Downloads , users need to install the Akamai Technologies Download Manager Browser add-on to access these files and will need to allow pop-ups (at least temporarily). The files are on the Top Downloads rather than Subscriber Downloads & Product Keys to load balance the with the download activity related to Windows Server 2008.
Previously, Microsoft had released the first Vista service pack to Connect testers, which has an odd filename of Windows6.0-KB936330-X86(x64)-wave0.exe. The slipstreamed and integrated full install of Vista with SP1 will be available for download prior to the end of the month too, while the general availability of the Windows Vista SP1 to the public will still in mid-March via Windows Update and the Microsoft Download Center.