D
on't want any 'rubbish' on Windows Vista desktop to spoil the beautifulness of your favorite background wallpaper or animated DreamScene video motion desktop? Recycle Bin icon on the desktop may be an eyesore to some people, especially given the attractive and elegant user interface of Windows Vista. And in fact, Microsoft has made it easy to remove or delete Recycled Bin icon by simply select "Delete" in the right click contextual menu. With Recycle Bin sidebar gadget, a new Recycle Bin icon can be put up Vista sidebar, allowing easy access to Recycle Bin functions such as one click empty the bin while removing the bin icon from desktop.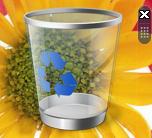 Download RecycleBin.Gadget (English edition) or RecycleBin.Gadget (Simplified Chinese Edition) (no longer available).
Unpack the zip archive and then simply double click on the .gadget file to install the Recycle Bin icon to the sidebar. The icon will align to the right if the sidebar is docked to the right, or align to the left if the sidebar is docked on the left. When click on the icon, a flyout menu will open to allow users empty Recycle Bin, open Recycle Bin or adjust Properties. The Recycle Bin gadget also supports drag and drop feature where users can drop wanted to throw away files directly into the bin. However, due the issue that transparency implementation in the sidebar interferes with the raising of events from transparent areas of an image, drag-and-drop or click functionality only works on fully opaque areas of the empty Recycle Bin icon. Thus, users have to click on or drop the items to the bottom of the empty Recycle Bin icon.