M
usicGremlin MG-1000 is a portable Wi-Fi enabled portable device cum portable MP3 music player. Music Gremlin MG-1000 features Direct-to-Device technology which allows music download directly to the device via wireless download technology without the need of computer, i.e. computer-free. The wireless technology also allows MG-1000 to connect to MusicGremlin to access 2 million digital tracks and songs via MusicGremlin Direct music service and to other users for device-to-device file transfer.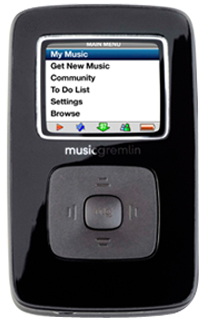 Wall Street Journal reviewed MusicGremlin MG-1000 which may become a threat to Apple iPod and concluded that despite its drawbacks, the MusicGremlin player and service are a great idea done pretty well. There's nothing else like them in the marketplace, and they represent a fresh approach to challenging the iPod. For some people, a system that cuts out the need for a PC and allows legal sharing of songs may just be the perfect iPod alternative. But the company will have to file off the Gremlin's rough edges if it's to succeed.
Laptop Magazine (link dead) gives the MP3 player rating of 3.5 stars out of 5 stars, and concluded that "we have a couple of complaints. First is the search function, which requires you to select each letter of the search term by scanning through the alphabet on the directional pad (the same process used to enter a WEP key.) We also found that with the current firmware, the player won't power off after a period of inactivity. Such quirks, combined with the relatively high $299 price tag, will likely keep the MusicGremlin ensconced in a niche market for the time being. But for users who prioritize instant gratification over perfect sound quality and physical ownership, this is definitely the wave of the future.
CNet meanwhile has an editor's rating of 6.3 out of 10 and concludes that Music Gremlin is good for lets you download new songs to your portable without a PC, music store has about 2 million tracks, can connect to other MusicGremlins through Wi-Fi or ad-hoc connections and share music and includes an FM radio. Bad points are music subscriptions cost $14.99 per month (otherwise, songs are 99 cents per track), only subscribers can share songs, poor battery life, merely 8GB of storage for $299, requires open Wi-Fi connection to download songs, FM radio can't remember presets, no video, photo, or messaging capabilities and doesn't work with Macs. Overall, the MusicGremlin is a novel first effort and a boon for people who want instant access to downloadable songs, but it probably doesn't deliver enough value to attract many users.