I
f you enjoy Gameloft's mobile phone's java game New York Nights which is a simulation game that let you you can live, work, and play in New York on your cellphone, then you will enjoy some tricks and cheat sheet that published by IGN. The cheats will give you advantage to succeed with singles in the game by knowing the interest of those around you in NYN game so that you can talk about things they like.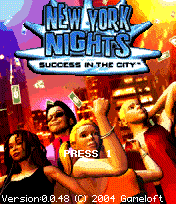 The cheat sheet contains Talk, Joke, Gossip and Give section which detail what actions a particular single likes about.
Talk: Which topics the single likes to converse about.
Joke: The sense of humor the single likes and this is what you should kid about.
Gossip: Set ears on fire with this particular type of gossip.
Give: What kind of presents curry favor with the single.
Charlotte
Talk: Cinema, Music, Sports, Travel, Lodge
Joke: News, Couples
Gossip: Kelly, Lynn, Vinny, Joe, Matt
Offer: Flowers, Teddy Bear, CD, DVD, Book
Lynn
Talk: Cinema, Music, Video Games, Fashion, Love
Joke: Couples, Toilet
Gossip: Charlotte, Vinny, Matt
Offer: Bear, Flowers, CD, DVD, Book, Video Game
Lucie
Talk: Cinema, Music, Video Games, Fashion, Love
Joke: News, Toilet
Gossip: Kelly, Lynn
Offer: Everything but Jewelry & Video Game
Kelly
Talk: Cinema, Music, Fashion, Travel, Love
Joke: Couples, Toilet
Gossip: Lucie, Lynn, Joe, Matt
Offer: Everything but Book & Video Game
Joe
Talk: Cinema, Music, Video Games, Sports
Joke: Couples, Toilet
Gossip: Charlotte, Ed
Offer: Jewelry, CD, DVD, Book, Video Game
Matt
Talk: Cinema, Video Game, Sports, Travel, Love
Joke: News, Couples
Gossip: Kelly, Lynn, Charlotte, Vinny, Joe
Offer: Everything but Jewelry & CD
Ed
Talk: Cinema, Music, Video Game, Travel, Love
Joke: News, Toilet
Gossip: Lucie, Kelly, Vinny
Give: Everything but Teddy Bear & Book
Vinny
Talk: Cinema, Music, Video Game, Love
Joke: Couples, Toilet
Gossip: Kelly, Lynn, Charlotte, Ed, Matt
Give: Everything but Flowers & Teddy Bear