N
okia 6280 is a slider cellphone that features the following specifications: integrated 2-megapixel camera with full-screen landscape camera mode and camera flash, and front side VGA camera for video calling, supports 3G and EDGE, video ringtones, 262,144-color LCD, MP3/AAC/eACC+ music player with stereo audio and a miniSD slot for expansion.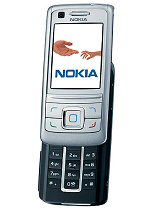 Lordpercy reviewed Nokia 6280 and concluded that "if you have been searching for a new mobile for a while and just sitting tight because nothing takes you fancy we'd suggest that the Nokia 6280 may fit the bill. Perhaps the most telling statement was made by Lordpercy who when using this model as his daily phone actually started to take calls. He's been lugging around a "smartphone" for months and even though it has all those snazzy features it just sits on his desk. Truth is it was just too big, now the 6280 is with him all the time and has most of the smart features apart from WiFi he wanted. The Nokia 6280 a smart enough phone that fits in your pocket nicely!"
Pros: good size an weight, nice slider, easy to operate, great menu system, excellent music player, good camera, good RF performance.
Cons: possibly iffy build quality, short battery life, lacks WiFi, Pop port connecter can be a sod to fit.
Full Review (link dead)