N
okia 770 Internet Tablet is a wireless touchscreen Internet appliance from Nokia which is designed for wireless Internet browsing and Internet communications such as calling and instant messaging and e-mail functions, and includes software such as internet radio, an RSS news reader, image viewer and media players for selected types of media. Nokia 770 is maemo-compliant, runs on Linux OS, supports 800×480 with 65K colors, integrated WiFi and Bluetooth.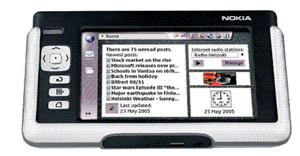 MobileBurn (dead link) reviewed Nokia 770 and highly recommended Nokia 770. MobileBurn concluded that "Nokia 770 can do a lot of things, it is open source Linux based, fits easily in your hand, and can connect to the internet via WiFi or Bluetooth. But is it something you need? Nokia hopes so. While I am not sure that it will have the mass market appeal that a DVD player does, I am quite sold on the idea for at least a subset of the consumer electronics market. If you like computers, the internet, and gadgets, this is something you are going to love.
But do I want one? Most certainly yes. Do you? If you are reading this, my guess is that you, too, want one, and that you'll be quite happy with it – as long as you have a WiFi enabled broadband connection at home."
Geek (dead link) meanwhile concluded that "I recommend it, but at the same time Sony's PSP is about to sell for $200 and the latest ROM will include a Flash player, so the two are almost neck and neck for Web-based functionality. The differences are strong on the hardware side, though. The PSP is a gaming device, but lacks Bluetooth and a touchscreen and is a bit heavier than the Internet Tablet. It's also not developer-friendly unless you hack the ROM directly, so there are trade-offs."
jkOnTheRun (dead link) thinks that "the 770 fits in an unforeseen gap between the PDA as we've known it and handheld computers such as the OQO and the Sony U. It offers just enough features to make it possible to graduate from a small-screen PDA without having to incur the expense and headaches of a handheld computer. And knowing Nokia, with its determination to create a market and then to fiercely defend it, the 770 will probably change the face of wireless communications and possibly even instill in people a curiosity about having Linux as their desktop operating system. I think, as the saying goes, this will change everything."
CNet gives Nokia 770 mediocre rating of 4.9 out of 10 and concluded that the reasonably priced Nokia 770 is a neat idea and a slick device, but slow performance and a few missing features keep it from realizing its potential.
The good: The Nokia 770 boasts a gorgeous, high-resolution screen that makes stunning Web pages. It has a full-featured Web browser and an e-mail client, plus it supports Internet radio and RSS newsfeeds. The 770 is attractive, easy to use, and great at detecting Wi-Fi hot spots.
The bad: The Nokia 770 suffers from extremely sluggish operation, with most movies and Flash animations too slow to be useful, and it relies only on Bluetooth and Wi-Fi for connectivity. Unfortunately, VoIP and instant-messaging features have not yet been implemented, and the device accepts only RS-MMC memory cards.
stevenf (dead link) reviewed Nokia 770 and said "I cannot recommend it for an average user at this time. Even a moderate-to-power user would be better served with a PDA or smartphone at double the price. Maybe if you JUST need the web browsing functionality occasionally for a room that does not have a computer, it's worth it. But the rest of the suite is a wash as of the current software revision.
The 770 is an intriguing curiosity. It has a lot of potential, and is a better web browser than any PDA. It's the sort of thing you desperately want to work, but despite your most forceful cajoling, the package just doesn't quite fire on all cylinders yet. Give it time for another hardware rev, and at least two more major software revs, and Nokia may have a compelling product on their hands — if someone else doesn't beat them to the punch first."
BrightHand also reviewed Nokia 770 and concluded that "the Nokia 770 Internet Tablet is an impressive concept and this first generation model is a great option for the consumer in need of internet connectivity on the go. The $400 price tag is in our opinion just right for what you get. The handwritng recognition flaw is the only outstanding issue that we advise the potential consumer to consider before shelling out the cash for this device. The outstanding internet experience would be the compelling reason to buy the 770. If you are already carrying a small Tablet PC or notebook and like what you have, we say "hold out" for the next model. The possibilities for future models that lie ahead are intriguing to say the least."
Ars Technica concluded after review that "all in all, the Nokia 770 is a strange beast. It's part laptop, part PDA, part laptop, and part media player. It's small enough to fit in your pocket (well, my pocket anyway), and I could see sitting down in a cafe with a WiFi connection and catching up on news, correspondence, listening to some music, or watching a video.
For the next iteration of the Internet Tablet, Nokia needs to do three things: improve the performance of the hardware (preferably with a faster CPU and more RAM), improve the e-mail application, and include more PDA-like functionality. Until that happens, the Nokia 770 will continue to fall short of its potential."
PC Magazine gave Nokia 770 only 2.5 out of 5 in the rating and concluded that "we suspect that developers and geeks will love the 770 in its current state. We heartily recommend it to that crowd, but the average consumer should hold off for now. Once Nokia smoothes out the bugs and the geeks start churning out more software, this will be a fun gadget to have at home."
HowardForums (dead link) concluded that "I'll be honest, my first impression when I saw the Nokia 770 Internet Tablet was that it looked pretty useless. It's designed by Nokia yet it isn't a phone. It looks like a PDA but lacks PIM functionality. What good is an internet tablet when you could have a PDA or a Smartphone? It turns out it's actually pretty useful for surfing the web. The display is wide and big enough to make it feel like you're browsing the web on a computer. Plus the 770 is fast enough that if you're connected via Wifi, webpages load in a snap. On top of that you can always use the 770 as a music or video player though the fact that it uses RS-MMC cards limits the amount of content you can fit.
In the end, if you're the type of person who carries a Smartphone or PDA around to surf the web and listen to music you'll want to give the 770 a look. It's not a Smartphone or PDA but it sure is useful."
Mobile Gazette also reviewed Nokia 770 and concluded that "The poor wireless LAN connectivity in our Nokia 770 is a very serious flaw, which is either a design issue or hardware fault. Otherwise, this is an excellent device with good inbuilt software. It works well with Bluetooth phones, and it is especially useful with a 3G handset. The inbuilt software still has a few rough edges and could do with some enhancements, but remember this platform is continually developing.
We will pursue Nokia about the poor WLAN connectivity. If that can be resolved, then we would recommend this device wholeheartedly."