N
okia E61 is high-end business email Smartphone device that aims to compete with Blackberry as alternative. Nokia E61 features advanced email capabilities such as Microsoft Word, PowerPoint and Excel (of Microsoft Office 97, 2000, XP and 2003) viewer and editor which compatible with Zip Manager and Adobe Reader, multi-tasking ability, and offline mode support. E61 also has up to 64MB of user memory, full QWERTY keyboard with backlight, 2.8″ 16M colors within 320 x 240 pixels TFT LCD, miniSD card slot and runs on S60 (Symbian Series 60 3rd Edition) Smartphone platform. E61 also supports WLAN, WCDMA, EDGE high-speed data, Bluetooth, and quad-band GSM. Other phone features are speakerphone, full HTML web browser, speaker-independent voice dialing, push email, device lock, device wipe and music player.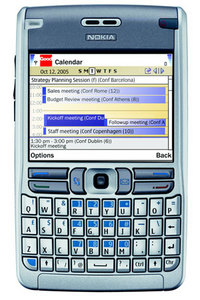 Mobile Game Faqs reviews Nokia E61 and concludes that Nokia E61 is one of many smartphone options available from T-Mobile and it's clear that it's an alternative to the BlackBerry – or the company's own branded Vario range – rather than a replacement. The real crux of whether you choose the E61 over the BlackBerry or the Treo isn't down to services, as they both offer a similar package, but whether you prefer the screen, the keyboard and the overall look of the hardware. For us, while Nokia has succeeded in not creating a device that is like its Communicator handset (i.e., a brick) we have to say we do prefer the software interface and keyboard layout of the BlackBerry over the Nokia. But that isn't to say that a Nokia user wouldn't prefer the software over and above the BlackBerry or Palm offering. A solid phone that offers plenty for the business user afraid to leave the comfort of the Nokia interface.
TechWorld concludes that "this is a phone we would be happy to call our own. It has limitations – it is large at 69.7mm wide by 117mm deep, and at 144g quite heavy, and is also too business-like to include a camera. But these are all by-products of its virtues", and has buying advice that this is smartphone that makes a lot of sense as a device for mobile email and other tasks, as well as providing a platform for Wi-Fi based mobile VoIP and other new ideas. It's somewhat heavy and large, but that goes with the territory: overall, good value for money.
IT Week (dead link) concludes with rating of 3 out of 5 that "in tests, we were impressed with the ease-of-use of the E61's core features. However, the user interface could be improved when you step beyond the basic functions. Nokia's E61 messaging phone will appeal to mobile workers that need the ability to view and edit documents sent as attachments."
BrightHand concludes that "I can not imagine a mobile professional that would not want the E61 over a Palm or Blackberry (and maybe even a Windows Mobile) device. Why? Because the E61 does everything that those devices are known for and does them well with a minimum of compromises. What are the quirky exceptions? Number one is Pop-Port. I hate it. A single USB cable could accomplish what Pop-Port does and more. Number two is the lack of a standard audio jack. Both of these items need to be addressed from the perspective of IT support — if you want to penetrate the enterprise market one of the worst things you can do is force a proprietary standard down people's throats. After using the E61, I can see a bright future for Symbian and Nokia's E-Series. Is the E61 the best smartphone available? It might be, but I can safely say that it's certainly the best that I have tested."
OhGizmo! has a first look on E61 and concludes that "before the E61 came along I will admit I was not a fan of Nokia's phone offerings but I'm quickly being converted. The company has been in this business a long time and to me the E61 shows they really know what they're doing. All I can say is 'Highly Recommended.'
MobileBurn (dead link) reviews Nokia's WiFi/UMTS capable, QWERTY equipped E61 and concludes that "with the exception of my sometimes weird experiences when using IMAP email with the automatic retrieval turned on, the occasional unwanted pause in the UI experience, and the annoyingly easy to activate voice memo button, the Nokia E61 performed fantastically. The device does most everything, save take a photo, and does it exceptionally well. From the business user's perspective, the vast push email support and full functionality that comes from a fine web browser backed by EDGE, UMTS, and WiFi network connections means that the E61 can take care of some serious work. It might not be the lightest or thinnest QWERTY phone on the market, but it is one of the most usable. I give it a "Highly Recommended" rating, with the hopes that the IMAP email support will get straightened out."
About Nokia concludes that "after using this device for two weeks I would go for this device and not for a Nokia Communicator (the traditional Nokia business phone). I really like the bigger screen and the easy to use keyboard. Todays standard smartphones like the Nseries have advanced features, but the device itself isn´t built for browsing or emailing. The E61 is!"
Check out also review of Nokia E61 by OSNews.