N
okia E62 is a Smartphone similar to BlackBerry, Treo and Motorola Q, and available on Cingular service. Nokia E62 features Symbian OS 9.1, S60 3.0, GPRS/EGPRS support, EDGE support, GSM 850/900/1800/1900 MHz, Bluetooth 2.0, miniUSB port, 320×240 16 million colors TFT LCD, push email support (i.e. Good Mobile Messaging, BlackBerry Connect, Intellisync Wireless Email, Mail for Exchange (Microsoft ActiveSync) and Xpress Mail), QuickOffice for viewing or editing Word, Excel or PowerPoint files, instant messaging client, full QWERTY messaging keyboard, USB Mass Storage Mode (as portable disk), integrated handsfree speakerphone, Screen Export feature which allows PowerPoint presentations with compatible projectors, positioning and navigation Bluetooth GPS devices support, and various productivity software.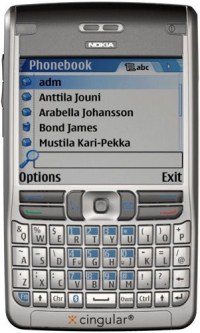 SlashGear reviews Nokia E62 and concludes that "productivity-wise, the E62 is ahead of the pack for its price point. I was impressed to find the Symbian 9.1 OS was fully-equipped with applications designed to view, create and edit documents in Microsoft Office (including PowerPoint presentations), a feature not available on the much-hyped Motorola Q. The PDF reader was also a help, but let's talk about the number one reason to buy an E62- complete mobile email support. Setup is a breeze, an email hot key provides one touch access, and a light at the top right corner of the E62 notifies of incoming emails. Though still not the ultimate combo of media, internet and productivity support, the E62 is a powerful contender even up against Blackberrys at double the price."
Engadget Mobile hands on with Nokia E62 for Cingular and concludes that "as hot as the E62 is at first glance, regardless of the fact that it comes with all manner of Office-compatible editors, Outlook compatibility, and a decent email client, it's still a tough stretch to think that the average Treo or BlackBerry user is going to make the leap of faith. After all, why would the average business user want to throw away everything they've learned about Windows Mobile or Palm OS to switch to a different operating system that might (or might not) work marginally better for them? Instead, we see the E62 appealing to two groups: 1) Symbian devotees who dig the benefits (low price, good support) of having the phone be officially offered through Cingular, and 2) a new generation of mobile warriors attracted to the E62's design when the lay eyes on it in the store. Ultimately, it's the second group that's going to make or break Nokia's renewed push for American acceptance of S60 in the long term, we've got our fingers crossed."
CrunchGear meanwhile concludes that if you're on Cingular and you need a touchscreen with true mobile broadband then you might want to wait until the 8525 (HTC Hermes) goes retail (soon). If can't wait for the 8525 with its HSDPA enlightenment, then the Nokia E62 is undoubtedly the way to go. The E62 is available now for $149.99 with a two year contract and the BH-800 Bluetooth headset can be had for about $120.