N
okia N80 is Nokia S60 3rd edition Smartphone on Symbian OS with a slide form factor. The feature-rich N80 camera phone has a 3 megapixel camera, a secondary 0.3-megapixel (VGA) camera for video calling, integrated flash, 20x digital zoom, video and MP3 player (RealPlayer and Flash Player), Bluetooth, infrared, 3G, quad-band, EDGE and WLAN (WiFi) which able to send images to a compatible TV or PC, photo editing tools. Nokia N80 is expandable with miniSD card and supports up to 2GB miniSD card to store nearly 1,000 images at up to 2048×1536 and the specification also always the camera phone to connect to a printer via PictBridge or Bluetooth.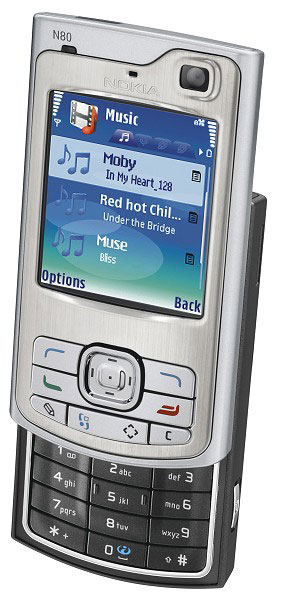 The compact and powerful Nokia N80 3 g camera Smartphone was even voted as Best Mobile Imaging Device in Europe 2006 by the Technical Image Press Association.
Crave at CNet has a first look on Nokia N80 and concluded that "this isn't the perfect phone — although we're prepared to say it's very close. It's still too big as a viable 'mobile' phone, measuring a chunky 50 by 95 by 26mm and the battery life is zapped by the Wi-Fi and 3G connectivity. After only one day of listening to music and browsing the Web, the battery died on us. We didn't even have a chance to say, "Who cares if it costs over 300 pounds, we love this thing.""
AAS previewed Nokia N80 and concluded that the N80 is a very powerful device which outclasses all of its competitors. In providing a well integrated, user friendly and feature rich convergence device which maintains the phone origins it comes from, the strengths of Symbian OS 9 and Series 60 3rd Edition are on show in the N80. This is a device with acronyms, specifications and technology aplenty, plus a stylish design. But it also represents something more…
MobileBurn (dead link) reviewed Nokia N80 camera phone and concluded that "Nokia's N80 is a truly amazing mobile phone that has a couple of flaws – one of them quite serious. While the lack of a good voice dialing system is a shame, and the lack of a functional automatic keylock is annoying, it is the battery life issue that is going to be the potential deal breaker for many people. The brilliant features like WiFi, the web browser, the camera, and the music player will be of no use if the phone has no power. So if you are a heavy voice user, especially one that spends a lot of time in or travels through poor reception areas, the N80 probably won't cut it for you. But if you are more like me, where a charger is nearly always close by and the signal is always strong, you will be awed by the N80 – and forgive it its poor battery life." MobileBurn recommended Nokia N80.
infoSync World (dead link) meanwhile gave Nokia N80 rating of 80% and concluded that the Nokia N80 camera phone lines up a brilliant high-resolution screen and 3 Megapixel-pushing camera only to put its foot in its mouth seconds later through the absence of an autofocus, which hampers its ability to produce quality stills with predictive consistency. Although it also includes the most extensive line-up of printing, publishing and image management services of any camera phone to date, it still falls marginally short of its N90 predecessor – yet retains broader overall appeal due to its music, business and wireless photo streaming functionality, rendering it a superb 3G phone. The positive things are camera resolution, comprehensive image management and connectivity, good battery life while negative includes lacks of autofocus and anemic camera interface.
Mobile-Review previewed Nokia N80 slider phone and concluded that "at the current moment this is the most functional smartphone on the market. They felt that 3MP camera without autofocus and with a useless flash, and thus not the best photo quality. Nominally the number of pixels grew, and extra macro mode is provided, which are advantages. And they also felt that UPnP, which is in the start of its route and now it is interesting from only theoretic point of view.
3G.co.uk also reviewed Nokia N80 3G phone and concluded that if you crave a phone with everything this is for you. There's no doubt that the N80 is an awesome convergence phone, but it has very limited niche appeal. 3G.co.uk rated the N80 with score of 90%. Main pros are it's impossible to look beyond the to-die-for feature set. It's pretty powerful stuff. Main cons are if you crave a phone with everything this is for you. There's no doubt that the N80 is an awesome convergence phone, but it has very limited niche appeal.
About meanwhile took a technical review on Nokia N80 based on computer algorithm, and N80 scored a overall score of 72. In the test, N80 scored in category of technology, phone book, camera, Push-to-Talk (PTT), while average in stand-by time, and less desirable in weight, talk time and speakerphone.
PC Magazine picks Nokia N80 as editor's choice with rating of 4 out of 5 and concludes that as a bleeding-edge device, the N80 stands alone in the market. Yes, the T-Mobile SDA is a terrific phone (and far more affordable), and it syncs with Windows Media Player – but it doesn't have the N80's high-res camera, UPnP, choice of top-notch Web browsers or stereo Bluetooth. It is also super-easy to get pictures off the camera and onto your PC. Pouring on the features – and making them work & earns this powerful phone an Editors' Choice.
PDAStreet (dead link) reviews Nokia N80 slider phone and concludes that "In our time with the N80, we noticed an annoying propensity to dawdle while switching between functions, leading us to think we hadn't firmly pressed a button when in fact we had. It's annoying, but not a deal breaker. Our other major complaint is the price. The phone's MSRP is $599.99, and since it's not currently offered by a U.S. carrier, that's the about the price you should expect to pay when purchasing one. Although the price is dear, the capable and well-rounded Nokia N80 is a great vade mecum for those as interested in imaging and music as in browsing the Web or making voice calls."