n
XZEN 5000 wireless Bluetooth hands-free headphone by Gennum features amplified in-ear receiver that cuts through the clatter and boosts acoustic separation plus next-generation FrontWave Extreme technology that instantly amplifies your voice, reduces background noise and filters wind noise. The BT headset has powerful digital signal processor (DSP) with 120 MIPS of digital processing power, supports dual microphone array, four-button operation, multiple device pairing, with up to 7 hours of talk time and 100 hours of standby time. nXZEN is configurable for both handset and hands-free user profiles which allows accurate voice dialing, last number re-dial, call waiting, call mute, and call transfer. nXZEN Plus 5500 and 5500 PINK has all the features and specifications of nXZEN 5000 plus ability to stream stereo music playback from MP3 or CD or media players which will automatically mute when answer a call. Also include is built-in wireless 8-band graphic equalizer that allows users to customize headset audio with a Bluetooth-connected PC.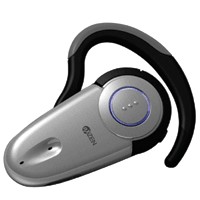 Gadgetnutz (link dead) reviews nXZEN 5500 headset for VoIP communication and concludes with grade A that "This is great little headset all by itself. Couple it with the ability to use it for Skype calls or other VoIP calls and nXZEN has a real winner of a package on its hands. It is more expensive than other headsets on the market – I found the package for $150 + on the web but I am sure it will be available for less at other online e-tailers. If you are interested in the convenience of being to use a great headset in a secondary capacity as a VoIP headset as well – you just can't beat this package."
MobileBurn (link dead) reviews Gennum nXZEN 5500 Bluetooth headset and concludes that the nXZEN Plus is a big improvement on the Z-470. The noise reduction alone means this headset must come into consideration for all situations. At US$150, it represents good value for money, especially since it is comfortable, easy to fit, and comes with a good list of accessories. While its nearest competitor, the Motorola H700 (US$100), may be a bit cheaper, its noise reduction and cancellation just do not compare to the Gennum nXZEN Plus 5500.