O
2 Xda Atom Windows Mobile phone (Pocket PC Phone) is a tiny smartphone with advanced PDA functionalites, and runs on Windows Mobile 5.0 and features 2.0-megapixel digital camera, built-in WiFi, built-in FM radio and other features of O2 Xda Mini, and most imporantly share the sleek and light design of O2 Xda II Mini.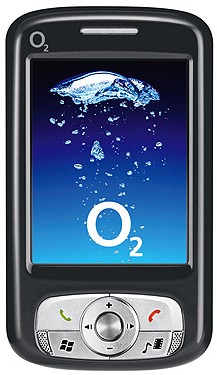 CNet Asia (link dead) reviewed O2 Atom and gave the Atom the rating of 7.7 out of possible 10. CNet Asia concluded that the Xda Atom does look good in its piano black shiny casing with its sexy curves. It also packs all the bells and whistles that every PDA and phone user lusts for, including Microsoft's latest Windows Mobile OS. It is, indeed, a good phone for users who favor size over an integrated keyboard. In a comparison with its rival, the Dopod 818 Pro, the former's processor speed and integrated FM radio give it an edge up. The Dopod 818 Pro, though, packs an SD expansion slot and quadband GSM support as opposed to the Atom's triband capability.
If you already own the Xda II mini, there are no spectacular improvements offered. So there is no need for an upgrade to the Atom unless you really need Wi-Fi, an FM radio or some functions that are associated with Windows Mobile 5.0.
CNet Australia (link dead) also reviewed Xda Atom and concluded that " the battery lasted around four days of moderate usage, although how much that was affected by the pre-production ROM in our test unit is impossible to say — we did experience a few crashes in that time that could have preserved or even drained additional power.
The Xda II Mini was certainly a hit amongst CNET.com.au's audience as it dominated the early months of the year when it came to choosing our top mobiles, and given that the Atom is essentially just a feature set upgrade and a coat of black paint on the same basic design, we see no reason why the Atom won't fare as well. If you're after a small smartphone, the Atom is a solid, albeit not exactly inexpensive choice."
CoolTechZone (link dead)however concluded that "The XDA Atom is minute, but not so minute that it hampers usability. There are definitely shortcomings to this device, as we've pointed out earlier. Some of them are are so glaringly obvious that they have to be oversights. There are three key things in the XDA Atom that were upgraded from the Mini Wi-Fi connectivity, the 2-megapixel camera and Windows Mobile 5.0. Sadly though, only one of them, Wi-Fi, works as well as you would expect it to. The OS and the camera are complete letdowns, however.
In the end, should you get the O2 XDA Atom? If you want a classy cell phone that gives you a style statement, we say skip it. If you want something to flaunt around and show off, the Mini is a better bet, since it looks classier than the Atom. O2 seriously needs to do something about the material quality and the exterior designing because the $900.00 price tag certainly doesn't justify the poor quality.
If, on the other hand, you want a PDA with Wi-Fi out of the box , you won't find any other phone that does all this so well. The ROM update is available at the O2 website that fixes some of the performance issues, but be warned that the interface is still drastically slow and you will never be able to type anything in a hurry. When you want to take notes, you will surely need to give the phone a bit of time to catch up with your quick movements.
While the battery life is another feasible option, the overall performance of the device is far too substandard for us to recommend. Until O2 works out the kinks in the XDA Atom and releases a completely new product, we suggest you continue searching for alternatives."
MTekk (link dead) rated O2 Xda Atom 8.5 out of possible 10 and concluded that "In my opinion, this is a fantastic device. I was impressed while playing with it at the Product Launch back in November 2005, and am equally impressed now. I have prolonged an upgrade from my XDA II and resisted purchasing the XDA IIi. I have now upgraded to the XDA Atom and am completely satisfied. While this device won't suit every user, it will certainly suit most. There is one feature that hasn't been included in the Atom, much to my disappointment. This is a Button Lock. Although the Atom comes with a Device Lock, it doesn't lock any of the hardware buttons to prevent the device powering up! It does prevent the buttons from activating any applications, and locks the screen in a similar way – but I would like to prevent my device powering up when it is sitting in my pocket. This is a bit of an oversight in my books.
I would like to make some recommendations to prospective purchasers: If you are seriously considering buying this device, find a shop with a few in stock and try it out first. Check the battery cover clips on and sits firmly, check out the sound quality for clicking noises heard during music playback, and lastly think about the screen size, and if it will be suited to your use."
OSNews (link dead) rated Atom 6 out of possible 10 and said of O2 Xda Atom: "Overall, this is a pretty good phone. But it could have been a lot better by just taking care of the details. I say this because most of my problems with the phone are just details. The basics are executed out very well by the product though and I am sure it's going to be very successful, especially if the price is brought down to more realistic levels."
MobileWhack (link dead) gave a rating of 7 out of possible 10 and found the good points to be Fast processor, Unique additional software, Size, Quad-wireless capability, Upgraded ROM, FM Radio And Camera with flash, while the negative points include Battery life, No hardware softkeys, No speakerphone, No keyboard, Very expensive device.
Good Gear Guide happy about Compact size, Native Wi-fi of Xda Atom, but not happy about Slow, No SD support, Average picture quality, and concluded that while O2 has impressed us in the past, the XDA Atom fails to live up to its potential. A small form factor and inbuilt Wi-Fi support fail to compensate for slow processing performance.
Mobile-Review reviewed the gadget and concluded that "O2 XDA Atom has no problems with signal reception quality. Ring tone and vibrating alert are average in strength.
O2 XDA Atom is the first model (the first attempt) by Quanta Computer. We can't say it's a failure, rather on the contrary. Applying developments of HTC (some part of HTC developers team has gone to Quanta), the Taiwanese maker managed to release a competitive product. Initially the model had serious problems with RAM size, productivity, but those drawbacks were removed.
The communicator has some unique features – FM-radio, stereo speakers, minimum dimensions and weight. There is just one serious flaw – battery life. I'd also mark a slow camera and the lack of soft buttons."
Mobile88 (link dead) concluded that "The Xda Atom is a grand device, with a hefty price tag to boot. It is excellent for the most part, with multiple connectivity options, surround sound and a rather good 2 megapixel camera. The glossy finish is superb, and so is the small size of the device. The screen is wonderfully clear, if a little bit small.
However, I must say that it just runs too slowly to be of much use to the power user. I ran into numerous problems with the voice calling, where many people that spoke to me on the device complained that they could not hear what I was saying.
The Xda is very flashy, and you almost get what you pay for at RM 2899. This would be suitable for a user who is upgrading from a barebones PDA. The SMS is a pain, so figure in another RM 500 or so for a good Bluetooth keyboard if you like to play with text messages."
AlsoluteSurf (link dead) also reviewed O2 Xda Atom and concluded that "This product definitely awed many by it's looks and size. however, I would advice anyone without any urgent use for this device to wait longer. Software updates and more WM5 support have yet to surface. Hopefully the speed issues are settled then. Other than that, I believe it's a fine product. It gives consumers to hope for much more smaller and slimmer products in the future." He even includes some tips and hacks to O2 Xda Atom to speed up the PDA, and install PhonePad (T9) input software from O2 Mini to Atom.
iMobile (link dead) concluded that the O2 XDA Atom is a powerful device that combines business applications with multimedia, thanks to Windows Mobile 5.0 and the inbuilt hardware features that characterise the Atom. It does have its share of bugs, like any Windows device, but combining a two megapixel camera with an FM radio, music player, stereo speakers and full PDA functionality, the triband GSM-capable Atom is up there in the list of all-in-one devices available in the market today.