PlayerUnknown's Battlegrounds (PUBG) is one of the most popular and bestselling online multiplayer battle royale game. Developed and published by PUBG Corporation, a subsidiary of South Korean video game company Bluehole, the PlayerUnknown's Battlegrounds was released for Microsoft Windows via Steam's early access beta program in March 2017, with a full release on December 20, 2017, including for the Xbox One via its Xbox Game Preview program at the same month.
In PUBG, gamer plays the role of one of up to one hundred players who are parachuted onto an island without any resources. Once reaching the ground, the players scavenge for weapons and equipment to kill others while avoiding getting killed themselves. The available safe area of the game's map decreases in size over time in order to direct surviving players into smaller areas to force encounters (and kill or be killed). The last player or team survive standing wins the round. A session of gameplay usually very short, lasting from several minutes to not more than an hour.
With insane popularity of the game, the PlayerUnknown's Battlegrounds soon arrives on mobile devices. The PUBG Mobile (in addition to two localized versions of PUBG Mobile) was released by Tencent Games for iOS and Android mobile devices, which was equally impressive yet less resource hungry.
Right after release of PUBG Mobile, many gamers have tried to out-advantage each other, especially by using Android emulators to play the PUBG Mobile game on a desktop computer, with keyboard and mouse. The help of keyboard and mouse plus significantly bigger screen size help those players gain unfair advantage over players who play faithfully on the iOS and Android mobile devices.
Luckily, the developer Tencent quickly addressed the issue by grouping Android emulator users together. Instead of locking and banning Android emulators, PUBG Mobile matches players using the game on Android emulators against each other. And now, Tencent has officially provided support PUBG Mobile on Android emulator by releasing PlayerUnknown's Battlegrounds Mobile on its official Android emulator – Tencent Gaming Buddy.
While many Android emulators such as Nox, Memu, Bluestacks and etc. do support PlayerUnknown's Battlegrounds Mobile, Tencent Gaming Buddy is the officially supported one, as in right from the developer of the game. And it claims to be the best-ever and perfect emulator for PUBG Mobile. Tencent Gaming Buddy is the official Android emulator developed by Tencent that ports and allows many mobile games to be played on desktop computer. Tencent Gaming Buddy is unlike the typical Android emulators, as it's very much locked down without a standard Android desktop, while games that are supported by it are pre-configured and pre-optimized. Thus, running PUBG Mobile via Tencent Gaming Buddy works out of the box and requires little to no customization.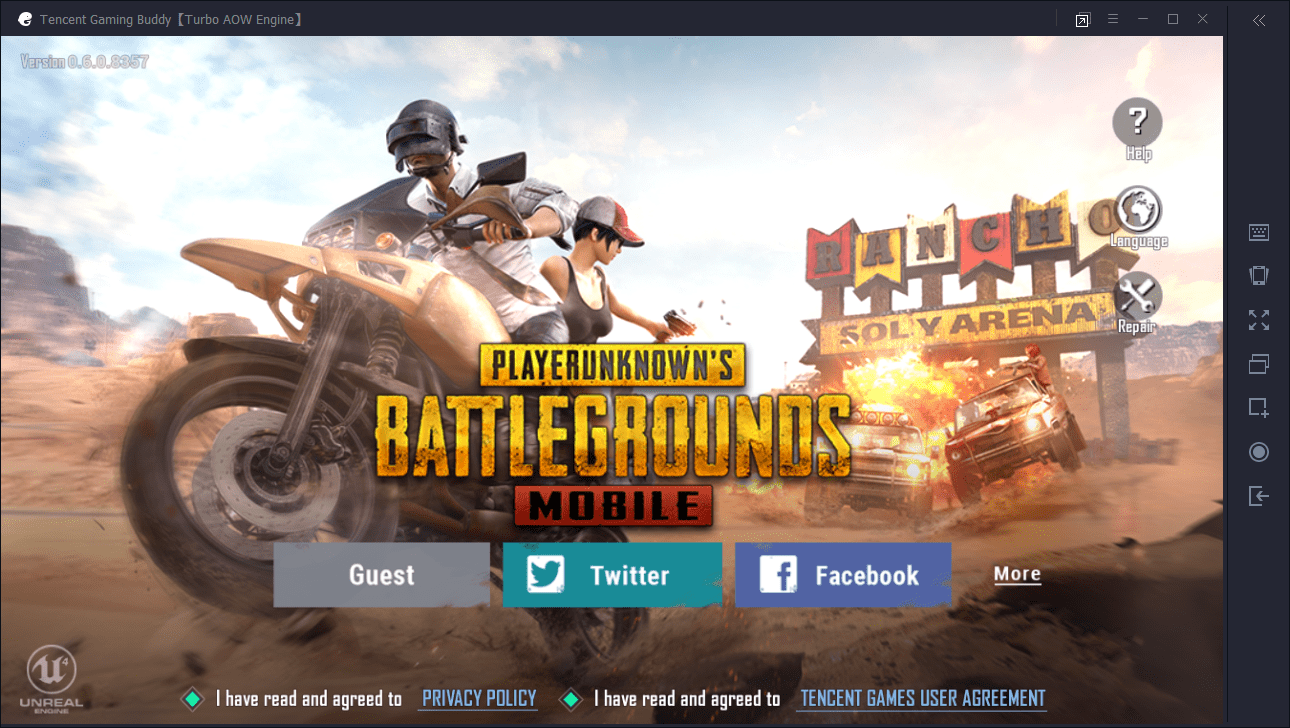 To download Tencent Gaming Buddy, a free download, head to the following URL:
Currently only Tencent Gaming Buddy bundled with PUBG Mobile is available for download. Once the installation of Tencent Gaming Buddy is completed, the emulator will automatically download and install PUBG Mobile by itself. You can jump right into the game as Tencent has optimized the key mappings and controls, in addition to making sure the no-lag performance of PUBG Mobile when running in the emulator.
Users who need to customize the keyboard bindings or use a gamepad can still do so via settings that are available. Tencent Gaming Buddy, while minimal in features, do also support screenshot capture and video recording. You can also use it as typical Android emulator by using trick to install app's APK into Tencent Gaming Buddy, though games that are not optimized for the environment may not run smoothly or properly.