O
lympus SP-320 Features and Specifications:
Olympus SP-320 Official Homepage
(no longer available)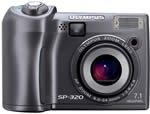 Olympus SP-320 Reviews and Comparisons
DigitalCameraInfo (dead link): The Olympus SP-320 certainly provides a wide variety of controls, such as full manual features, partial auto, full auto and a wealth of preset shooting options sure to appeal to the user on a budget. The only problem is that the menu is unfriendly towards everyone. For more advanced users the menu structure will be a hindrance, though not overwhelming, but beginning point-and-shooters run the risk of becoming turned off to the whole idea of digital photography. This camera would really be a compelling option if only the menu were overhauled. In addition to these concerns, the LCD is a bit underwhelming with a resolution of just 115,000 for 2.5 inches, which produces fairly compromised image quality, even if it is at an affordable price.
The Olympus SP-320 has plenty of impressive features with a 7.1 MP CCD, digital image stabilization, conversion lens options, direct printing, RAW format recording, and shooting modes aplenty, and with all of this for just $299 it would be nice to see the flaws smoothed out to make this camera a really strong contender. Check back for the full review to see how the SP-320 performs in tests of color accuracy, noise, dynamic range, resolution and low level lighting performance when compared to the competition.
DigiCamReview: I was generally very pleased with the Olympus SP-320's image quality straight from the camera, as pictures came out with low noise, accurate color, and good saturation, contrast and detail. The camera also provides excellent control over image quality, with saturation, contrast, and sharpness options, and full aperture, shutter and manual controls. The SP-320 is a comfortable camera to hold with a good sized hand grip and a fairly compact but sturdy body. This camera is easy to use (in auto mode) especially with the built in help guide and numerous scene modes, although it offers a mixed bag with regards to camera speed. The camera offers good battery life with high powered rechargeable batteries. The camera has very good controls and features, such as custom white balance, digital image stabilization, excellent macro mode, and good video features. The SP-320 is excellent value for money as one of the more competitively priced 7 megapixel digital cameras. If you are looking for an easy to use, compact, high resolution digital camera with advanced controls then I would definitely recommend the Olympus SP-320. Rating: Recommended (8/10)
DigitalCameraReview concludes that the Olympus SP-320 is a good choice for someone looking for camera with advanced features (RAW, aperture priority, shutter priority, and manual modes) but who still has a pretty tight budget. At a street price under $300, the SP-320 stays affordable for such "advanced" features.
The camera takes high quality images with good color and detail. It's also easy to use, yet still has plenty of customizability with custom shortcuts and the ability to set up to four custom modes. Battery life is good, if you can handle some of the power management issues that I've brought up (cycle time and LCD black out after batteries have discharged a bit).