MDI (Microsoft Document Imaging) extension format is a a high resolution, tag-based graphics format based on the Tagged Image File Format (TIFF). .MDI files are a proprietary closed format supported only by the Microsoft Office 2003, and Office 2007 version with a little trick. If you receive a .MDI files and have no Office 2003 or Office 2007, or bring saved or exported .MDI files to computer without Office system, your best bet will be BugySoft MDI2PDF Converter.
MDI2PDF Converter is the program to open or convert MDI files to de-facto data presentation standard format – Adobe Acrobat Portable Document Format or PDF, and TIFF image format. Once converted, the documents can be opened with free Adobe Acrobat Reader.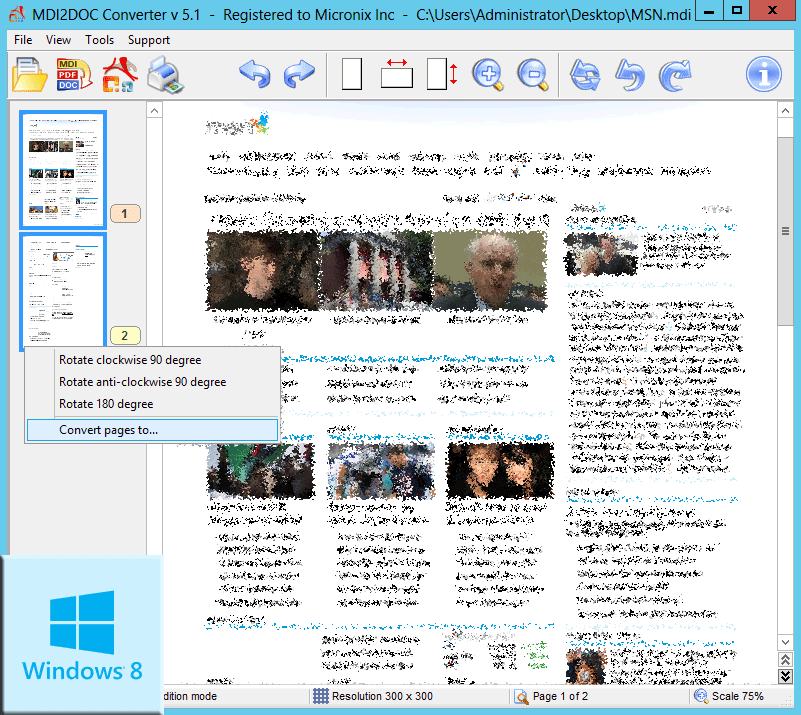 MDI2PDF Converter is available in 3 editions – Free, Light and Pro. Free edition is available for download without any fee payment or license purchased, but there will be popup advertisement on exit. MDI2PDF Converter Free version features support to allow users to open, print, export and save the MDI files and data into TIFF format. That's more than enough functions for users who just need to open and read the MDI files, or probably to input TIFF generated into OCR (Optical Character Recognition) software to recreate the editable documents.
For advanced users who want to convert MDI to PDF format, the MDI2PDF Converter Light edition 39 €, while the Pro version with price tag of 49 € allows to open MDI file directly in Adobe Acrobat Reader.
Update: MDI2PDF is superseded by MDI2DOC. MDI2DOC Converter is an easy-to-use file viewing and converting utility, designed to export MDI or any other image files to MS Word in order to edit them or convert them to PDF are the de-facto standard data presentation format. MDI2DOC Converter also has free edition that includes base functionality for viewing files and exporting them to ordinary image files, like JPEG or BMP, with no limitation. With free edition it's possible to export to PDF, but with watermark. FREE edition has no time limits, and the available editions have increased to Light, Pro, Ultra and Corp.
Download the free MDI2PDF Converter or buy the license for Light, Pro, Ultra or Corp editions.