I
f you are using Google Drive (either free personal account or as part of Google Apps), and are using the full-featured Microsoft Office desktop software such as Word, Excel and PowerPoint to create and edit your documents, spreadsheets and presentations, you can download Google Drive plug-in for Microsoft Office to make the office suite tightly integrated with Google Drive.
Google Drive plug-in for Microsoft Office is a free add-in from Google to allow Office users to open Word, Excel and PowerPoint documents stored in Google Drive, then save any changes back to Google Drive once they're done, all from within the Office apps.
Setup of Google Drive plug-in for Microsoft Office is easy. Just download and install the tiny package, and then run Word, Excel or PowerPoint after installation completed. On first launch, a "Welcome" wizard pops up to prompt you to log in to your Google Account which you want to access the Drive content from Office apps. Once authenticated, you will see Google Drive as a location listed among all the storage folders and drives (i.e. OneDrive, DropBox, This PC / Computer, Office 365 SharePoint etc.) accessible on Open and Save dialog.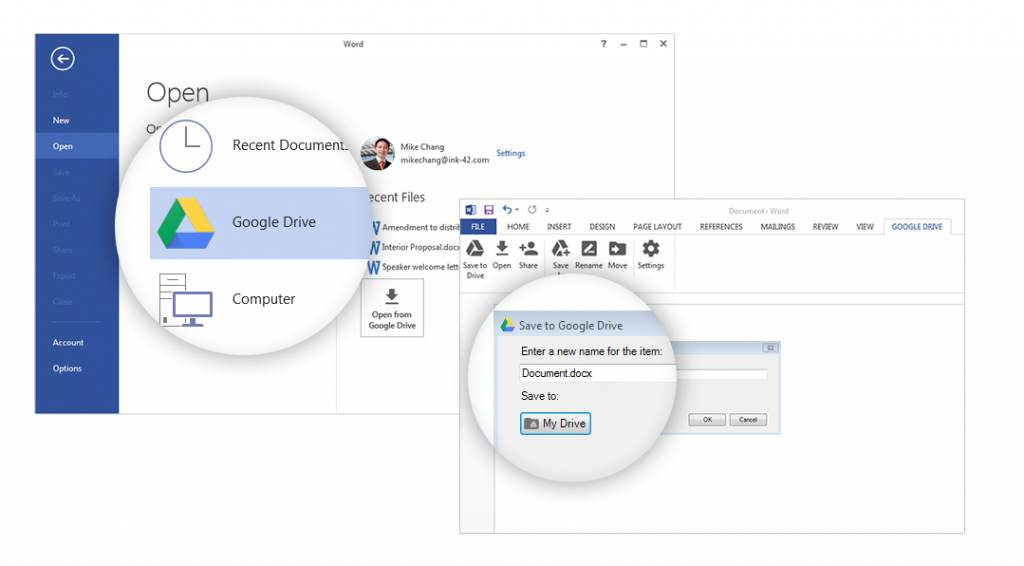 When opening files, selecting Google Drive -> Open From Google Drive allows user to view all files currently storing or shared with you on Google Drive, and easily open any of them. When saving a document from Microsoft Office, users will be given an option to save it to My Drive.
In addition, the Google Drive plugin will also display as a folder on the desktop. Files in the Google Drive folder will be accessible both in Microsoft office and online. However, do note that unlike standard Google Drive client, Google Drive plug-in does not sync any files.
Download Google Drive plug-in for Microsoft Office from https://tools.google.com/dlpage/driveforoffice.
The add-in supports most versions of Office, including Office 2016 and Office 2013.