P
anasonic LumixDMC-LX1 Features and Specifications:
Panasonic Lumix DMC-LX1 Official Homepage
(discontinue)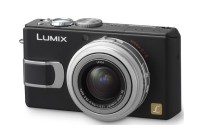 Panasonic Lumix DMC-LX1 Reviews and Comparisons
PC Magazine: Bottom Line: A versatile camera for those who want something smaller than a D-SLR, with lots of pro features and controls, but the images are noisy and you'll find the shutter lag irritating. Pros: Shoots at true 16:9 aspect ratio, zoom lens starts at true wide angle, excellent LCD, impressive battery life. Cons: Pricey for a compact camera,flash is too strong (though adjustable), images noisier than expected, some pincushion distortion, noticeable shutter lag.