P
anasonic Lumix DMC-LZ5 Features and Specifications:
Panasonic Lumix DMC-LZ5 Official Homepage
(no longer available)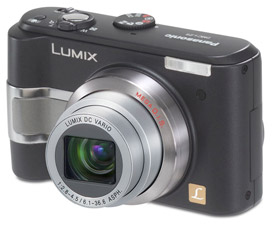 Panasonic Lumix DMC-LZ5 Reviews and Comparisons
DigitalCameraInfo (link dead): The 6 megapixel, 6x zoom Lumix LZ5 could be a good fit for casual snapshooters who don't plan to enlarge images or shoot much in available light. If they can avoid situations where they will run into the camera's noise problem, they will probably be happy with the zoom range, the very effective image stabilization, and the generally simple, thoughtfully-implemented user interface.
Though other manufacturers are introducing image stabilization in low-end cameras, they haven't caught up yet with Panasonic. We think Panasonic has made a good bet with low-cost image stabilization. Camera shake is a major annoyance for snapshooters, and addressing it for under $300 is a unique advantage – one that ought to outweigh the Lumix LZ5's problems with image quality.
Likes
– Optical Image Stabilization works well
– Multiple color modes enable users to select either accurate or heavily saturated colors
– Simple, clean design
– Easy to use in automatic modes
– Low price for resolution and zoom range
Dislikes
– Poor LCD display
– Noisy images at most settings
– Zoom toggle seems flimsy
– Lack of manual control options
– Instruction manual is poorly organized
LetsGoDigital reviews LZ5 and concludes that "Panasonic LZ5 leaves us with a pleasant and particularly positive feeling. For its price-tag, the camera offers the consumer a great deal of ease and functionality. The novice photographer will undoubtedly feel happy as a king with so much user convenience. It is impressive to see how Panasonic manage to integrate the MEGA O.I.S. into all their digital cameras. This feature is a truly valuable asset of the LUMIX digital camera. The Panasonic Lumix DMC LZ5 is a superb digital camera for those who consider themselves novice digital photographers, but do desire that little bit extra from the zoom range. All in all, the Panasonic LZ5 forms an excellent first step to a future advanced camera – and who knows, perhaps even to a future (Panasonic) D-SLR camera?"