P
hilips Streamium SLA5520i media streaming device or wireless music adapter allows you to listen to music from your computer (which act as media server) anywhere in the home. SLA5520i connects to your Hi-Fi and can play MP3, WMA or protected WMA-DRM files stored on your PC as well being able to stream internet radio broadcasts through a 802.11g Wi-Fi connection. Beside, the SLA5520i also can receive a select number of Streamium internet stations without the need to start up the PC.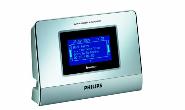 ComputerAct!ve (link dead) reviewed Philips Streamium SLA5520i media streaming device with rating of 4 out of 5 and concluded that although the Philips SLA5520i only supports music, it's very good at what it does, and it looks good too. Good points are good sound quality, great looks and relatively simple set up. While bad points are no way to connect to a wired network and no support for music bought from Napster or iTunes.
PC Pro concluded that the SLA5520i is a curious mix of reassuringly simple and needlessly confusing. If you're looking to make the most of your digital music collection, look elsewhere. For daily playback of a small MP3 library, though, it's a good-value option.
Web-User (link dead) meanwhile concluded that while the SLA5520i doesn't have the breadth of features of some of its rivals, such as the ability to play BBC radio or its own speakers, it does the job of streaming music from your PC rather well. Whether you're plugging it into an existing stereo or a spare set of amplified speakers, this offers tremendous ease of use at a decent price.