P
lantronics Voyager 510 Bluetooth headset with Multipoint Technology allows user to seamlessly switch between two Bluetooth devices for communication and has noise-canceling microphone for superior sound and audio quality. Plantronics Voyager 510 Bluetooth headset features single button for call answer/end, last number redial and voice-activated dialing.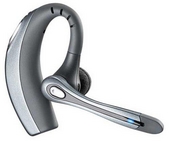 Tech Blog reviewed Plantronics Voyager 510 Bluetooth earpiece and gave the headset rating of 3.5 out of 5, and concluded that "sound quality is great, whether you're indoors or outdoors. The signal strength was quite strong even when I put my cell phone in a bag while using the headset. Overall the sound clarity was quite high on both ends even on medium volume settings." Pros are comfortable, great sound quality and reach, while cons are expensive and mic sticks out.
Check out more reviews on Plantronics Voyager 510.
Full Review (link dead)