P
PLive is another P2p streaming video network that allows streaming video, including TV channel to be much more smooth. Another program similar to
PPStream
. PPLive is a peer-to-peer streaming video network created in the People's Republic of China. It is part of a new generation of P2P applictions, that combine P2P and IPTV.

PPLive is a free shareware, and it integrates the most advanced peer-to-peer technology so it can provide the users with the smoothest TV programs with no interceptions. Just like in P2P technology, all PPLive users becomes a broadcaster when themselves are also a receiver, thus reducing the cost of traditional streaming. That indirectly also mean that the more users online, the faster the programs can be loaded.
Characteristics of PPLive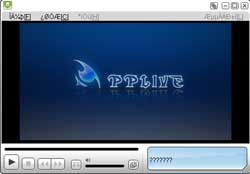 Provide smooth and stable TV programs. Apply the advanced P2P technology to automatically adjust to the changing network architecture. Any nodes leaving will not affect the performance of PPLive.
Low requirements for your computer system and low CPU utilization.
Stream data is buffering in the memory, not on the hard disk. So no need worrying about your hard disk.
PPLive can download stream data from different connection nodes and can automatically find the nearest nodes for downloading stream data.
Support various stream data: mms, asf.
Installation of PPLive
Installation of PPLive is straight forward. Just download the PPLive installation program from PPLive website, and then start the installation program. Follow the on-screen instruction, and you will be able to get it up and running in no time.
Using PPLive
To select a channel (TV station or any other streaming media), double click the PPLive icon on system tray (normally on bottom right) and it will brings you to the channel listing (or right click on the PPLive icon). Alternatively, go to the PPLive website or any other PPLive's partners? websites to view the channel listing, and then click on the streaming link which starts with pplive://.
If you visit PPLive or partners' website, all channel will be listed together with current program showing. Click on the "PLAY" icon behind the channel you wish to view will start the PPLive to stream the channel.
To switch language to English, click on PPLive icon on the system tray, and click on Languages and then English to switch to English.
The connection information will be shown in the PPLive icon when mouse is over the icon. The computer is connect and buffer the stream data from other computers. PPLive typically uses ports 8008 TCP and 4004 UDP to connect to peers, which may be changed in newer version.
When the buffer data reaches 90% and above, PPLive will automatically start the Windows Media Player or RealPlayer, and instruct it to read a stream from a local port (usually 8080).
Closing down your Media player 'will not' end the stream. The PPLive program will remain in the background streaming data until you close it from the tray or change the channel.
Newer version of PPLive comes with 2 components. They are PPLive TV Engine, the main engine that acts as P2P engine and also streaming source for local media player. It also comes with PPLive TV, or PPlayer, which can be used to replace Windows Media Player and Real Player, and comes with built-in channel list, albeit available in Chinese only.
Some settings like total number of peer, buffer size, TCP and UDP port numbers and etc can be change by clicking on PPLive TV Engine icon at system tray.
As with any other P2P software, copyright issues are always exists in usage of PPLive, as most of its channels and contents are from cable or satellite TV. Much of the content is Mandarin, Cantonese, or Korean_language. Some of the more notable channels usually available include CCTV, Phoenix Television, live soccer matches and Hong Kong movie channels. Beside, the quality of media is in doubt, as users experience frequent disconnection and distortion.
Channel Listing
One of the main source for users to know which channel available for PPLive is thru various website. In some of them, the user can even know what program that is currently showing on the particular channel, and user can simply launch the channel on PPLive by clicking on the PPLive link. Here are some of the websites available:
PPLive (Chinese)
PPLive (English) (No longer available)
TVSou (Chinese) (No longer available)
AsiaPlate (Sports related) (No longer available)
Note
PPLive was re-branded as PPTV.