P
Pstream is a software that allows to view a streaming audio video media (i.e. TV channels) based on BitTorrent Peer to Peer (P2P) technology.

ppStream works by using BitTorrent P2P technology, thus everyone when viewing media with ppStream client, the viewers upload content at the same time the programs are downloaded and viewed. ppStream creates a local stream on localhost and that stream is then read by Windows Media Player, Real Player or other media players.
Since all viewers will upload content when viewing media, everyone becomes a broadcaster (server) without the cost of traditional streaming. And hence, the more users are online, the faster the programs can be loaded. And it will automatically find different connection nodes and download stream data from the nearest location (nodes). The good thing is, stream data is buffering in the memory, not on the hard disk.
Channel Availability and Reliability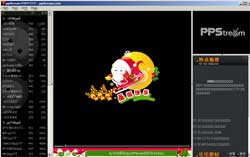 Currently, most of the media contents are TV channels from China, and it includes some subscribers-based international channel such as HBO, ESPN, National Geographic and etc, although they're Chinese subtitled as they are broad-casted in China.
Lately there are some independent channels that broadcast selective collection of media, such as latest blockbuster movies, collection of movies from a celebrity, or whole series of a drama. This kind of channels is created by individual viewers.
There are also some radio channels available.
Most channels depends on somebody at somewhere that has the source of the TV channels or the media to encodes and streams it via ppStream. Thus, the reliability and availability of a channel is not always good, depending on the source.
Furthermore, with legal and copyright issues, it's in question how long the programs and channels will last before been shutting down.
Ease of Use and Speed of ppStream
Just download ppStream and install it, and you're ready to jump on the bandwagon of P2P TV. ppStream is able to work perfectly and stream smoothly without any configuration.
Alternatively, you can also view it online.
The only, but quite a problem is since ppStream is developed at mainland China, much of its interface is in Chinese.
Note: If you're using Windows XP with SP2, you need to patch the limit of simultaneous TCP/IP connection of 10 to higher number, i.e. 100.
Note: As the ppStream will download media stream at optimum speed of about 372 kbps, so it's best to have a faster Internet connection to have better experience. 512 kbps is simply not enough.
Usage of ppStream
Once you launch ppStream, it will connect to the server to retrieve list of channels available, and sort it according to popularity. If it's during soccer or football live telecast time, you can be quite sure that all those on top once you open your ppStream will be sports channel. However, as you use ppStream, the list will no longer sorted by popularity.
There are description to most channels on the channel list, although most of them in Chinese language. To view description about the channel, hover on it, or right click on that channel, and click on the last item (I), which means "properties". To refresh, click on item (R). Item (P) and (S) means start and stop the channel, while (C) mean copy the url address of the channel.
You can save the url address of your favorite channel in a shortcut, with your own description to solve the problem of unable to understand Chinese channel list. To open that channel, just click on menu mark (F) (for File) or press Alt-F, and then press item (O) to open the shortcut or (U) to key in the url address.
You can also view the channel in full screen. To do this, just press Alt-Enter, or Alt-V then follow by F. If you press Alt-T and follow by S, you will be shown a windows to schedule the shutdown time of various componets: 1st selection is shutdown CPU, 2nd selection is shutdown ppStream, 3rd selection is off the monitor, 4th selection is stop playing and final selection is playing music. To enable it, click on the check box, the click on first command button (left side of the two).
Alt-H will bring you to Help menu, where first item in the list will bring you to ppStream homepage, second item (B) will bring you to ppStream forum in Chinese, third item to (N) schedule of TV and channel shows, forth item to download patch for Windows XP SP 2 TCP/IP limit, while last item (W) will let you watch ppStream from the browser.
Alt-A is for about. So if you can read Chinese, you will know more about ppStream and also about ppStream player.
On the right pane is a list of recommended TV channel programs and excerpts from latest forum posting. On top of it is high recommended show. If you click on a small link with a icon of clock and calender, you will be shown the full schedule for some channel, albeit in Chinese language.
The center of the ppStream, is where your media will be played. If you right click on it, you will see several menu items. The 4th to 7th items is self-explanatory, which means zoom size, with (F) as full screen. The 1st item means auto-resize to fit the window, 2nd item mean the windows always on top, the 3rd item mean launch Windows Media Player to view the streaming media instead of using ppStream player (where you right click), 8th item means Mute, 9th is Properties and 10th is about ppStream.
Home Page: ppStream
Update: New version of PPStream.