M
icrosoft unveiled a new class of computer – the Ultra Mobile Personal Computer (UMPC) at CeBIT in Germany. The UMPC was previously codenamed Project Origami. The device is a ultracompact computer runs on Windows XP with a touchscreen and wireless connectivity via Wi-Fi and Bluetooth.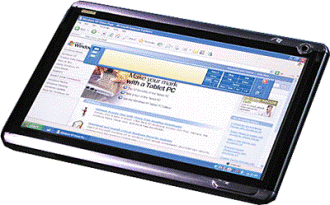 UMPC is essentially a full computer or laptop, without the keyboard. Instead, it has a 7-inch touch-sensitive screen that responds to a stylus or the tap of a finger, a 30-60 gigabyte hard disk drive, and will be powered by Intel Celeron-M microprocessor. Intended to provide the features of a Microsoft Windows PC, Ultra Mobile PC will only be about half to one-third the size of a notebook computer, about an inch thick and weigh less than 2 1/2 pounds.
UMPC will run on Windows XP Tablet PC Edition 2005 initially, and switch to Windows Vista once it becomes availabe. A newly developed software called Windows Touch Pack will handle touch-screen functions.
Some models may include built-in GPS, webcams, fingerprint readers and TV tuners. Although without keyboard, once may be attached via a USB port or, wirelessly, using Bluetooth.
UMPCs are expected to cost $US500-$1000, and it's expected to hit the shelves in April with UMPCs manufactured by Samsung and Acer, while Founder, China's second largest PC maker, is scheduled to ship its version in June.
Beside, Movielink has partnered with Microsoft to enable UMPC's owners to download movies and videos directly to the device instead of having to access the site through a Web browser first.