A
9.com is a search engine by Amazon, intends to use innovative technologies to improve search experience for e-commerce applications. To encourage surfers for using A9.com as their search engine, 1.57% discount is given on virtually all purchases at Amazon.com by simply becoming a regular user of A9.com.

To eligible for the Amazon discount, a user need to sign in into A9.com and participate in A9 Instant Reward program. After fulfilling the minimum criteria by regularly searching thru A9.com, Instant Reward will automatically applied when you checkout at Amazon, no matter whether you are using the Shopping Cart or Amazon 1-Click ordering.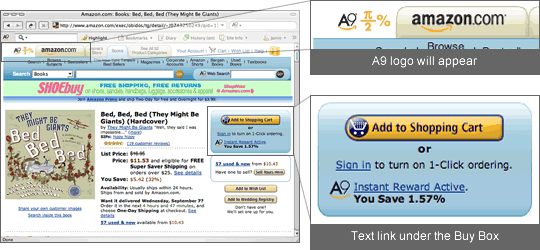 Well, 1.57% may seem little, but it's better than none, and it adds up, especially you repetitively purchase at Amazon, or purchase a big amount of merchandises. And, all it takes is just a couple of searches in A9.com.
A9 rewards program has discontinued, and A9 search engine is now powering Amazon and related sites, instead of relying on Windows Live and Google as previously.
Search at A9.com Go to Amazon
instead.